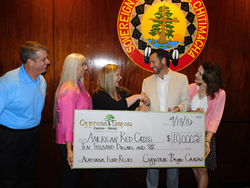 Charenton, La (PRWEB) September 14, 2016
Cypress Bayou Casino Hotel and Chitimacha Tribe of Louisiana presented a $10,000 donation to the Louisiana Red Cross to provide relief to those in the affected areas of the historic flooding that plagued Louisiana. The donation is part of a multi-faceted fundraising effort to include a $1 contribution from the sale of each meal served at Cypress Bayou Casino Hotel for the next 30 days and flood relief t-shirt sales. The Louisiana Region of the American Red Cross serves 4.65 million residents in the 64-parish state.
"We are saddened by the devastation that this historic flood has caused and the impact it has had on our local community, guests and team members," said Stacey McKay, Director of Marketing at Cypress Bayou Casino Hotel. "We are here to help and we are proud to announce that this is the first of two donations to the Louisiana Red Cross," continued McKay.
The flooding in Louisiana has forced thousands of people from their homes with just the few things they could take with them. The American Red Cross sent an estimated 1,500 volunteers to Louisiana to help with more than 11,000 refugees in state-operated shelters.
"The American Red Cross of Louisiana appreciates the support of Cypress Bayou Casino to help get the families who have lost everything get back on their feet," said Kearney Gay of the Louisiana Red Cross. "We continue to help many thousands of people in Louisiana in what is the worst natural disaster to hit the United States since Superstorm Sandy in 2012."
Cypress Bayou Casino Hotel is a proud contributor to several local charities, nonprofits and causes from profit for the greater common good of the people of Acadiana.
About American Red Cross
The American Red Cross shelters, feeds and provides emotional support to victims of disasters; supplies about 40 percent of the nation's blood; teaches skills that save lives; provides international humanitarian aid; and supports military members and their families. The Red Cross is a not-for-profit organization that depends on volunteers and the generosity of the American public to perform its mission. For more information, please visit redcross.org or cruzrojaamericana.org, or visit us on Twitter at @RedCross.
About Cypress Bayou Casino Hotel
Cypress Bayou Casino Hotel is located in Charenton, Louisiana off of US Highway 90 and features over 1,000 of the newest, most in-demand slots and more than 30 tables including Blackjack, Mini-Baccarat, Mississippi Stud, and 3-Card Poker just to name a few. You can also enjoy dining in one of the five unique venues or stay the night in the new state-of-the-art 102-room hotel.
Phone 1-800-234-4386 for more information, or visit the website at http://www.cypressbayou.com