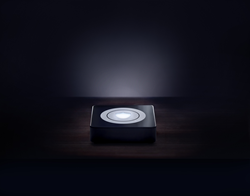 Vancouver, BC (PRWEB) September 21, 2016
Betternet, one of the largest providers of VPN applications on both iOS and Android, with 45MM+ users worldwide, has announced the public launch of its newest product, Betterspot. Betterspot is a VPN router that works with any connected device on any platform to provide a secure, private and unrestricted internet connection for all devices.
Ramin Behzadi, COO of Betternet Technologies Inc., said, "As smart devices and the IoT are quickly and inevitably becoming part of our daily lives, the need for a safe, secure and a fast VPN service becomes essential. We noticed it had become a challenge to find a VPN app that works on all your devices, in the home or at the office. After a huge success in getting this large traction of 45MM+ users, we assigned a dedicated team to come up with the next great product, which is our VPN router: Betterspot."
The Betterspot device connects easily to your router, providing VPN functions to all of your WiFi devices such as tablets, smartphones, laptops and PCs. Betterspot is compatible with various operating systems such as Windows, Ubuntu, OS X, Android and iOS.
As soon as you access any websites, Betterspot automatically initiates the VPN connection. This allows users to bypass internet restrictions such as censored or Geo-restricted content while providing anonymity by masking their IP address and location. Travellers can access popular streaming services regardless of their physical location, even if visiting a country where content is ordinarily unavailable.
The Betterspot mobile application lets users control the device through their smartphone. Users may switch between their VPN, normal router or TOR anonymity network according to the levels of privacy, location and data sharing that suit their needs.
"We'd like to say that Betterspot was the result of a 'eureka' moment," said Ramin, "however, we think the reality is far more interesting. Through inspiring feedback, we were able to construct a product that meets all your [consumers] demands. We realized that Betternet users enthusiastically require using Betternet on all of their smart devices such as smart TVs, Windows phones, Mac computers, and Apple TVs, but unfortunately VPN apps cannot be installed on all these devices."
Because the Betterspot device is small, portable, and easy to use, it is the ideal tool for connecting smart devices anywhere and taking advantage of the award-winning Betternet VPN service.
Started from September 14th, Betterspot devices became available for pre-order at https://www.betterspot.com/. For a limited time, the company is offering a 20% discount to early adopters. Shipments will commence in early January 2017.
For more information about this story, contact:
Ramin Behzadi – COO, Betternet Technologies, Inc
Betternet
ramin(at)betternet.co
+1 (778) 859-2327