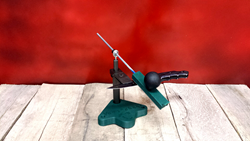 Vipersharp is making waves in the knife community.
Eagle Mountain, Utah (PRWEB) September 15, 2016
Two years ago Mike Wood was frustrated with the results from a so called precision sharpening device and he set out to make improvements. This was the birth of the Vipersharp precision knife sharpener, a system that was created with existing flaws in mind. This knife sharpener was created to be more than just another clone on the market. ViperSharp offers a system that makes sharpening and honing blades easy. It will put an edge on a kitchen knife or an EDC pocket knife. It helps refine an edge as needed and it offers more precision to get the exact edge desired with very few limits providing angles between 35°-12°
The ViperSharp knife sharpening system truly opens the limits of sharpening and offers stones to create the perfect edge on any knife. While many knife enthusiasts appreciate the challenge of free hand sharpening, many wish there was an affordable option that takes the guesswork out of it and allows anyone to get a perfect edge every time. The ViperSharp may very well be the best knife sharpener available today.
From home users and cooks to hunters and knife enthusiasts there is a need to keep an edge on a knife. Many of the guided knife sharpeners and systems available have limitations that don't allow a user to truly get that precision. This is what inspired a knife enthusiast in a small Utah town to create something new that would overcome all these shortcomings. With rave reviews from Youtubers such as CutleryLover, BlackScoutSurvival and TJack Survival ViperSharp is coming to change sharpening for every user.