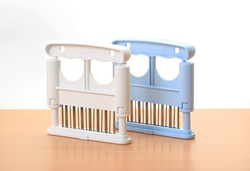 The improved design of niXaX Light will make it the world's most user-friendly steak tenderizer.
Seki, Japan (PRWEB) September 19, 2016
Distinguished Japanese manufacturer of high-quality cutlery products, Yoshiharu Cutlery, is all set to improve their popular product niXaX Steak Tenderizer. The company claims that the improved design of the new model, named niXaX Light, will make it the world's most user-friendly steak tenderizer. Yoshiharu Cutlery has just launched a Kickstarter campaign to support the market launch of the niXaX Light Steak Tenderizer.
Steak is the favorite dish of millions of people around the world because of its tenderness, juiciness, and delicious taste. However, many steak lovers often complain about tough, chewy steaks that are considered not suitable for human consumption. The popular niXaX tenderizer from Yoshiharu Cutlery was designed to help users prepare tender, juicy, delicious steaks at home. Now, as a follow-up version of this model, niXaX Light Steak Tenderizer delivers the same quality of craftsmanship and tenderizing power in a smaller, easier to use model.
The niXaX Light is highlighted by ergonomic design and intuitive functionality. Some of the most noteworthy features of the improved niXaX Light Steak Tenderizer are:

10 handcrafted tenderizing blades
Crisscross pattern tenderizing
"U" shaped blades for breaking up tissue without compromising the meat
Protective guide pins to prevent the blades from sticking into the cutting board
Dishwasher safe, easy to clean design
Yoshiharu Cutlery has just launched a Kickstarter campaign to cover all costs leading to the market launch of niXaX Light. The company previously had the experience of managing a successful Kickstarter campaign earlier this year. Starting with a funding goal of $8,000, they ended up with well over $10.000. This campaign helped Yoshiharu Cutlery introduce their niXaX Steak Tenderizer. This time, the company is looking to raise $3,000 to launch the improved niXaX Light model. A successful Kickstarter funding campaign will ensure the start of production by November.
To find out more about the campaign, please visit https://www.kickstarter.com/projects/403476566/nixax-light-tm-user-friendly-japanese-handy-meat-t
The website of Yoshiharu Cutlery is http://www.yoshiharu-cutlery.com/
About Yoshiharu Cutlery: Yoshiharu Cutlery Co., Ltd. is a Japanese company that was founded in Kyoto over 100 years ago. 40 years later, they moved to Seki City, known as one of the world's largest cities for cutlery production. The company's main products are chisels for school children, scissors, and meat tenderizers.