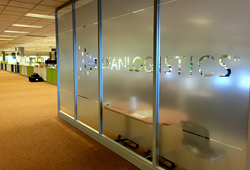 We chose MacroPoint because it offers the most complete real-time load location data in the industry
Cleveland, OH (PRWEB) September 14, 2016
MacroPoint, creator of patented freight tracking software designed to give shippers, brokers, 3PLs and carriers real-time visibility into load status, announced today that LeanLogistics is using its technology.
"We chose MacroPoint because it offers the most complete real-time load location data in the industry," said Chris Johnson, Chief Technology Officer at LeanLogistics. "Everyone in the LeanLogistics Transportation Network can benefit from the enhanced visibility this technology provides."
LeanLogistics is a global solutions provider of SaaS transportation management system (TMS) applications and supply chain services. LeanTMS delivers transportation planning, execution, settlement, and procurement, as well as visibility and business intelligence capabilities.
"Having a company with as large a footprint as LeanLogistics use our patented freight tracking solution validates the effectiveness, accuracy and value that MacroPoint brings to transportation management systems in North America and around the world," said Dan Cicerchi, COO of MacroPoint. "By integrating MacroPoint's advanced freight tracking and real-time location monitoring solution, LeanLogistics joins the steadily growing number of companies that are leveraging the data we provide to enhance the value they offer shippers and carriers."
LeanLogistics is headquartered in Holland, Michigan, and is part of Kewill. For additional information, visit http://www.LeanLogistics.com or call 877.828.5861
About MacroPoint
Headquartered in Cleveland, Ohio and founded in 2011, MacroPoint is the provider of a global freight visibility platform for shippers, brokers and 3PLs. MacroPoint's patented, automated load monitoring and tracking software provides real-time load location visibility by using any cell phone, in-cab ELD/GPS device, or trailer and container tracking system. The cloud-based solution enables location monitoring and tracking, delivery monitoring and event notifications, and exception management and predictive analytics capabilities. The SaaS platform is also integrated with a growing number of TMS systems, automating the entire process and eliminating the need for drivers to check in with dispatchers, and for shippers and brokers to check in with carriers. To date, over 800,000 drivers and millions of connected trucks are a part of the "MacroPoint enabled" network. To learn more about MacroPoint, call 866-960-0328 or visit http://www.macropoint.com.
Media Contact:
Susan Fall
LaunchIt Public Relations
858-490-1050
susan(at)launchitpr.com