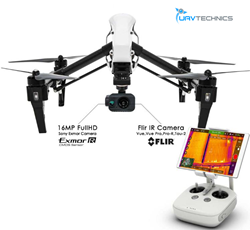 Combining 2 major brands which have proved their quality and reputation being the best at what they do!
Antwerp, Belgium (PRWEB) September 15, 2016
source: UAVtechnics
UAVtechnics is introducing a game-changer in the drone scene, presenting a drone solution in combination with a thermal FLIR camera and 16MP daylight camera which perfectly suits the DJI Inspire and DJI Matrice 100 drones. By combining two major brands which have proved their quality and reputation, UAVtechnics has released a multifunctional platform. Both cameras are supported by a 3 axis gyro stabilized gimbal and therefore have a rock-solid image. It is possible to switch between 2 live video streams within the GO app. An optional thermal videostream can be displayed on a 2nd screen. The Sony Exmor 16MP RGB camera is able to take pictures and record video at 1920p – 30/60fps. The FLIR thermal camera can record video, take stills, change color palette and has 4x digital zoom and pixel temperature measurement. Furthermore there's synchronization between RGB and IR pictures. This drone solution is perfect for emergency services, surveillance and security, border patrol, industrial inspections, solar panel inspections, and search and rescue.
Pricing starts from 8200€ and delivered worldwide.
http://www.uavtechnics.com/product/inspire-thermal-dual-2/
http://www.uavtechnics.com/product/matrice-thermal-dual/