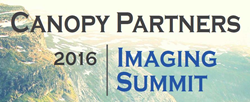 "Very informative! I learned so much - particularly how radiology groups and imaging providers are using technology to create value for their practice." - Tom Greeson, Partner, Reed Smith LLP 2015 Imaging Summit attendee
Greensboro, North Carolina (PRWEB) September 15, 2016
Canopy Partners, a North Carolina based healthcare technology company, will host its third annual Imaging Summit on Thursday and Friday, October 27th and 28th, 2016 at the Proximity Hotel.
Radiology and Imaging executives from across the country are invited for this one-of-a-kind industry event. The theme for the 2016 Canopy Summit is "Imaging Elevated". The topics are focused on specific, actionable measures to add value and "elevate" your imaging game. The event features an all-star lineup of industry experts and thought leaders.
The Canopy Partners Imaging Summit is designed exclusively for senior executives and decision makers in radiology and medical imaging. Last year's event was attended by 82 executives from 40 different imaging practices across 20 different states. The turnout is expected to be even bigger this year.
Keynote speakers include:

Ingrid Lund, Practice Manager - Physician Practice Roundtable, The Advisory Board Company
Eric Mansell, MD, PhD, President, Greensboro Radiology
Jeff Jones, CFO, Cone Health
Patrick Hurley, CEO, Radiology of Indiana
The event also features a series of Imaging Innovation Labs focused on three different tracks: Clinical, Technical and Business. The tracks will be focused on topics including:

MIPS & MACRA
Lung cancer screening
Bundled payments
Radiology analytics
Advanced 3D visualization
& more …
"Very informative! I learned so much - particularly how radiology groups and imaging providers are using technology to create value for their practice." Tom Greeson, Partner, Reed Smith LLP, 2015 Imaging Summit attendee
There is no charge for attendance, but space is limited to 100 attendees. You do not want to miss this amazing opportunity to join fellow executives and network with industry experts and peers. To learn more or register for this free event, please visit the Canopy Partners 2016 Imaging Summit information page, or contact Event Coordinator Mallory Mast at 336-235-2257.
###
About Canopy Partners
Canopy Partners is a privately held healthcare technology company that specializes in medical billing, business analytics, information technology, and management consulting services. Our passion is elevating the role of medical imaging in the healthcare value chain. We create flexible, customer-driven business solutions that improve our client's productivity, profitability, and patient care. The company was recently named to the 2016 Inc. 5000 list of America's fastest growing private companies.
To learn more, please visit http://www.canopy-partners.com