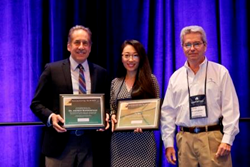 The lean accounting movement seeks a shift from traditional cost accounting practices to methods that accurately measure and motivate companies implementing lean management
Cambridge, MA (PRWEB) September 16, 2016
A professor and a graduate student at the Maharishi University of Management (MUM) in Fairfield, IA, have won 2016 Excellence in Lean Accounting Awards from the nonprofit Lean Enterprise Institute (LEI).
Professor Andrew Bargerstock, PhD, director of the MBA program and chair of the Accounting Department at MUM, and PhD student Ye Shi won the awards for their work developing case studies illustrating how to "kaizen" or continuously improve accounts payable processes using lean management principles. Both are repeat winners.
Their article "Leaning Away from Standard Costing?" was published in the June issue of Strategic Finance.
Bargerstock first received the professor's Excellence in Lean Accounting Award in 2009 for teaching lean principles to the Institute of Management Accountants and for developing a post-graduate lean accounting certificate program at the university. Shi, a recipient of the 2013 student award for developing lean accounting training materials, currently is researching why U.S. manufacturers that use lean principles in production continue to use traditional accounting practices.
The awards were presented at the annual Lean Accounting Summit, August 24-26, in San Antonio, TX, attended by about 150 finance and operations managers from manufacturing and service companies.
Change Cost Accounting
"The lean accounting movement seeks a shift from traditional cost accounting practices to methods that accurately measure and motivate companies implementing lean management principles," said Jim Huntzinger, president and founder of conference organizer Lean Frontiers. "The shift is needed because traditional cost accounting does not accurately reflect the performance gains made when companies launch a lean transformation."
For example, traditional financial statements do not reveal reductions in inventory or cycle times, or new-found capacity in operations produced by the transformation. Traditional accounting practices also motivate the wrong behaviors in companies implementing lean principals. For instance, conventional efficiency metrics can motivate management to create excess inventory.
"As a nonprofit research, training, and publishing company, the Lean Enterprise Institute's mission is essentially education," said Chet Marchwinski, LEI communications director, who presented the awards. "So it's very fitting that LEI support and recognize professors and students who are advancing lean thinking and practice."
He said the goal of the award program is to bring the principles and practices of lean accounting into higher education, business schools, and, ultimately, companies.
The award recognizes teachers and students who attended a previous Lean Accounting Summit then applied what they learned. Winners are selected by a panel of lean accounting thought leaders. The nonprofit Lean Education Advancement Foundation raises, manages, and distributes scholarship money so professors and students can attend the Summit.
About the Lean Enterprise Institute
Lean Enterprise Institute Inc., a 501(c)(3) nonprofit based in Cambridge, MA, makes things better through lean research, training, publishing, and events. Founded in 1997 by management expert James P. Womack, PhD, LEI supports other lean initiatives such as the Lean Global Network, the Lean Education Academic Network, and the Healthcare Value Network. Learn more at lean dot org.
About Lean Frontiers
Since 2005 Lean Frontiers has organized tightly focused events aimed at helping organizational silos understand how they can support lean transformations across the organization. The company produces lean events for Accounting, HR, Sales and Marketing, IT, Supply Chain and Logistics, Product Development, and Business Coaching. Learn more at: http://www.leanfrontiers.com/