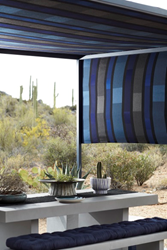 Our expanded decorative shade fabrics recognize the importance of shade design and give our customers more options to create extraordinary outdoor environments.
(PRWEB) September 14, 2016
Once again changing the way people think about shade, Glen Raven Custom Fabrics, makers of Sunbrella® fabrics, will introduce two new fabrics into its Decorative Shade Collection at the 2016 IFAI Expo, October 19-21 in Charlotte, North Carolina. Jacquards Avenues and Cirrus emphasize the growing desire for shade that is equally matched in design and in performance.
"Architects and designers are looking for new ways to create built environments in harmony with nature's forces," said Vince Hankins, industrial business manager for Glen Raven. "Shade structures are increasingly beginning the design conversation, rather than being an afterthought or accessory. Our expanded decorative shade fabrics recognize the importance of shade design and give our customers more options to create extraordinary outdoor environments."
The Decorative Shade Collection was first introduced at the 2014 IFAI Expo and featured fabrics Fundamental, Alloy and Unity. Following suit, Avenues and Cirrus utilize a traditional Sunbrella fabric construction, ideal for upscale, highly decorative applications.
Avenues is a Mondrian-inspired design featuring a large-scale color block. With a contemporary aesthetic, this asymmetrical block stripe is ideal for a modern home or commercial setting. Avenues is 54" wide and available in colors Daylight (neutral tones white, flax and gravel) and Midnight (darker tones black, blue and charcoal).
Named for the thin, wispy cloud formation, Cirrus portrays an allover cloud look. Multiple weaves give this fabric the illusion of layering or clouds floating. Suited for both traditional shade applications and more far reaching cabanas and other shade structures, Cirrus is 54" wide and available in colors Dove (cool gray tone) and Sand (warm linen tone).
Both Avenues and Cirrus feature the performance characteristics Sunbrella is known for – fade proof, easy care and bleach cleanability.
"The color in Sunbrella fabrics is embedded deep inside each and every fiber, which is why the fabric has superior fade resistance" Hankins said. "Nothing takes away from the visual appeal of an outdoor space like a faded shade structure. With Sunbrella, you can enjoy beautiful, comfortable shade for years to come."
This year also marks a new Sunbrella shade book, released once every two years. In addition to Avenues, Cirrus and existing decorative shade fabrics, the book will include new colors and updated stripes, as well as current solid and stripe offerings proven popular among consumers, designers and architects. New colors include Azure, derived from the Italian word 'azzuro' for blue; Basalt, a soft green; various shades of grey – Gravel, Storm and Ember; and White, a striking departure from the traditional Natural used in shade applications.
For more information about the Sunbrella Shade Collection, visit the Sunbrella booth #1718 at the IFAI Expo or visit sunbrella.com.
ABOUT SUNBRELLA FABRICS
Sunbrella has revolutionized the way the world thinks about how beautiful fabrics look, feel and perform. With an inspired palette of colors, styles and textures, premium Sunbrella fabric gives consumers, designers and architects the material they need to create the extraordinary in marine, shade, residential/upholstery, commercial and contract applications.
Versatile in style and function, Sunbrella fabrics create welcoming spaces indoors and out, offering durability, fade resistance and ease of cleaning. They also offer peace of mind; Sunbrella fabrics have achieved GREENGUARD GOLD certification as contributing to healthy indoor air quality.
Introduced in 1961, Sunbrella fabrics are manufactured and marketed by Glen Raven, Inc., a 135-year-old family-owned company based in North Carolina with operations worldwide. For more information on Sunbrella, including inspiration, fabric collections and where to buy, visit sunbrella.com.