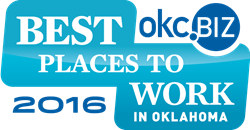 Oklahoma City, OK (PRWEB) September 15, 2016
180 Medical, a medical supply company based in Oklahoma City, OK was recently selected as one of the 2016 Best Places to Work in Oklahoma. The annual list of "Best Places to Work" was created by okc.BIZ and Best Companies Group. This is the seventh year in a row 180 Medical has received the recognition, which was determined by an in-depth process.
Nominated companies were evaluated by their workplace policies, practices, philosophy, and demographics, as well as an employee survey that allowed them to anonymously rate their personal experience at their job. This award program was designed to identify, recognize, and honor the best places of employment in Oklahoma, benefiting the state's economy, its work force and businesses.
Public announcement of the entire list and rankings of the 12th annual Best Places to Work in Oklahoma program will be simultaneously published in the Oklahoma Gazette and on okc.BIZ and okgazette.com websites and in the 2016 Best Places to Work in Oklahoma magazine on September 28, 2016. For more information on the Best Places to Work in Oklahoma program, visit http://www.BestPlacesToWorkOK.com.
With a new, spacious facility for the company headquarters in Oklahoma City and many perks, including an in-office gym, free healthy snacks, and goal-based incentives, 180 Medical provides a positive environment for its employees. The company hopes to enjoy continued growth for the near future, bringing in candidates who encompass the "180 Medical Way."
180 Medical is proud to be included in this list and would like to thank everyone involved in creating this annual list to recognize companies in Oklahoma that are improving the state's economy and employment outlook for Oklahoma residents.
About 180 Medical:
180 Medical is one of America's fastest growing home delivery providers of sterile-use catheters, ostomy, and urologic disposable medical supplies. Based in Oklahoma City, the company is dedicated to meeting the supply needs of customers with chronic medical diagnoses such as urinary incontinence, spinal cord injuries, spina bifida, colon cancer, Crohn's disease, and many other conditions that require catheterization and ostomy supplies. 180 Medical is a subsidiary of ConvaTec, a leading global medical products and technologies company. For more information, please visit http://www.180medical.com.