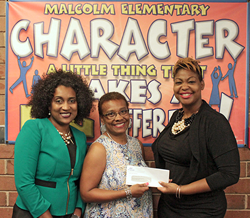 Suitland, Maryland (PRWEB) September 14, 2016
Andrews Federal continued its back-to-school giving ways by donating $1,000 to Malcolm Elementary School towards the purchase of classroom teacher supplies.
Malcolm Elementary School, located in Waldorf, Maryland serves 600 students in pre-kindergarten through fifth grade. Malcolm is situated in a suburban setting. All of the students ride the bus, and come from a myriad of backgrounds. Most enrichment activities are either school wide or grade level in nature, and are designed to include all students. Staff works hard to create a climate where disparate populations experience academic rigor within a cohesive and healthy social environment.
"We are happy to be able to assist members of the educational community in any way possible," said Sasha Harding, Waldorf Branch Manager. "We wish the students and staff at Malcolm Elementary all the best this year, and hope our donation contributes to their success."
About Andrews Federal Credit Union
Andrews Federal Credit Union was founded in 1948 to serve the needs of military and civilian personnel by providing a vast array of financial products and services. With over $1 billion in assets, Andrews Federal has grown to serve more than 113,000 members in the District of Columbia, Joint Base Andrews (MD), Springfield, Virginia (VA), Joint Base McGuire-Dix-Lakehurst (NJ), and military installations in central Germany, Belgium, and the Netherlands. In addition, the Credit Union serves as a financial partner with many select employee groups in Maryland, the District of Columbia, and New Jersey.
To learn more about Andrews Federal Credit Union and its community involvement, or to become a member, call 800.487.5500 or visit http://www.andrewsfcu.org.