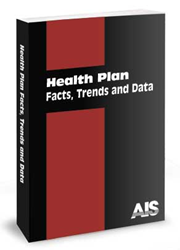 Washington, DC (PRWEB) September 15, 2016
Atlantic Information Services, Inc. (AIS) is pleased to announce the publication of Health Plan Facts, Trends and Data: 2016-2017, a comprehensive one-of-a-kind resource on the U.S. health insurance industry. Developed by researchers in AIS's Directory and Databases Division, the company's exclusive research team that also creates the industry-leading AIS's Directory of Health Plans — Health Plan Facts, Trends and Data — provides valuable intelligence on a wide range of big-dollar health plan issues, from benefit design and management strategies to corporate financial results and enrollment.
Some of the topics tracked by Health Plan Facts, Trends and Data include:

Industry-wide Trends. AIS's in-house editorial and research teams have closely tracked enrollment and market trends over the past year — including Medicare Advantage and Medicaid enrollment, premium rates and integrated health systems.
Market Impact of Mergers and Closures. From the controversy surrounding the Anthem-Cigna and Aetna-Humana mergers to myriad CO-OP closures, the industry has seen volatile shifts in the past year.
Insurer Strategies. In-depth accounts of health plans' competitive strategies in public and private exchanges, reimbursement strategies such as value-based care, outcomes-based drug contracting and bundled payments, and pharmacy benefit cost containment.
Innovative Partnerships. The shape of the industry continues to evolve as insurers, health systems and providers form partnerships and launch products designed to provide value to customers while cutting costs.
Business News. Synopses of mergers, acquisitions and divestitures, financial and stock market performance, personnel decisions and executive compensation trends.
Data and Developments on Blues Plans. New for this edition, a chapter is dedicated to data, trends and strategies of Blue Cross and Blue Shield companies.
For more information on Health Plan Facts, Trends and Data: 2016-2017, including a full table of contents, visit https://aishealth.com/marketplace/health-plan-facts-trends-and-data.
About AIS
Atlantic Information Services, Inc. (AIS) is a publishing and information company that has been serving the health care industry for nearly 30 years. It develops highly targeted news, data and strategic information for managers in hospitals and health systems, health insurance companies, medical group practices, purchasers of health insurance, pharmaceutical companies and other health care organizations. AIS products include print and electronic newsletters, databases, websites, looseleafs, strategic reports, directories, webinars, virtual conferences and training programs. Learn more at http://AISHealth.com.