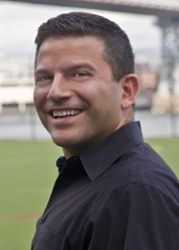 Avi Gvili begins writing the third and final book of the Samson Turner trilogy
Staten Island, New York (PRWEB) September 14, 2016
Author, educator and political activist, Avi Gvili has written novels, short stories and plays. His first young adult novel, "Samson Turner and the Legend of Hercules," combines a love for mythology with his interest in the great superhero characters of the 20th century. In 2015 he debuted the sequel entitled, The Quest for Olympus which follows the main character Samson Turner on his adventure to save the mythological realm of Olympus.
In the final installment Samson and his super powered friends, Leo, Trinity and Appolonia join Athena and the Gods of ancient mythology to save Olympus and defeat the evil Hera and war god Ares. "The final book in the trilogy promises to be a page turner from beginning to end," said Avi Gvili.
Boulevard Books is an educational publishing company that aims to publish the newest voices of the 21st century by empowering authors with ownership of their work.