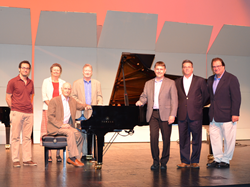 We are very excited about the possibilities for long distance performances and master classes with pianists from Stockholm to Los Angeles and beyond. (David Westfall,Instrumental Studies Division Director)
West Hartford, Conn. (PRWEB) September 19, 2016
University of Hartford's The Hartt School has selected a Yamaha Disklavier CFX concert grand piano (DCFX) for its soon to be renovated Millard Auditorium. The award-winning reproducing piano will be permanently housed at Millard, one of the university's primary concert venues, to amplify student learning via master classes and distance learning.
The Yamaha DCFX was chosen during an historic three-piano selection process. Tony Falcetti, president of Falcetti Music and Hartt School trustee, arranged to have a trio of Yamaha Disklavier concert grand pianos delivered to Millard so the selection committee could hear each instrument played from the stage of the acoustically sophisticated concert hall. David Westfall, director, Instrumental Studies Division and associate professor of piano; Margreet Pfeifer Francis, assistant professor of piano, Program Chair, Hartt Community Division; Paul Rutman, professor of piano; and Mohammed Shams a doctoral student and representative from Hartt's Community Division Faculty, were involved in the selection process.
Funding for the purchase of the DCFX was secured from a significant contribution from the University of Hartford's Provost Office. Recently retired Provost Sharon Vasquez expressed a desire for the music school to take advantage of 21st century learning. The DCFX is the flagship instrument in the Yamaha line of fine concert grand pianos possessing a rich palette of tonal colors and exquisite resonance. It is capable of recording an actual performance and then playing it back with note-for-note precision and all the sensitivity and nuance intended by the artist.
This professional level reproducing capability of the Disklavier, coupled with its remarkable ability to stream live performances between remotely connected instruments distinguish the DCFX as an unsurpassed concert grand piano in educational and institutional settings. The school will dramatically extend student learning in both classroom and private instruction settings with "Remote Lesson" technology that makes it possible to connect two, three, or even four Disklavier reproducing pianos via the Internet. When a teacher, performer, or student plays a Disklavier using this technology at one of the locations, each remotely connected Disklavier reproduces precisely the same key and pedal movements in real time, while all participants can interact over video.
An extensive Yamaha PianoSoft and DisklavierTV™ library also will be readily available to Hartt students and faculty. The library features myriad concerts, recitals and lectures recorded by acclaimed pianists from all over the world, which students can observe right on the instrument, all at the touch of a button.
This immense potential for educational collaborations with other top-level music schools, professional musicians and individual students and faculty was a significant consideration for the school.
"Pianos have different personalities, and selecting one is very subjective and personal. We were all in agreement that the Yamaha DCFX is the instrument that we want," says Westfall. "I love the touch, the sound, the way it feels, and its great flexibility as a solo and collaborative instrument. Artists will appreciate it because it can play the most pianissimo passages and still project, yet it holds its own over an orchestra playing Rachmaninoff's 'Piano Concerto No. 3'. We are very excited about the possibilities for long distance performances and master classes with pianists from Stockholm to Los Angeles and beyond."
"The DCFX will also allow prospective students to audition when they aren't able to physically come here – and we can hear them play while watching a video of their performance," says Westfall. "Yamaha has earned great respect in institutional settings and we're very happy we have a Disklavier for our students."
Millard Auditorium is an intimate 428-seat concert space that is home to opera, dance, theatre and music theater performances. It has a computerized sound and lighting system, a full orchestra pit, and is used for symphonies, chamber music concerts, solo recitals, lectures and master classes. The Alfred C. Fuller Music Center is a four-story complex that holds Millard, as well as administration and department offices, practice rooms, classrooms, The LEGO Learning Center, and smaller performance and recital facilities. A successful capital campaign will make it possible to enhance the 50-year old auditorium's brick walls with acoustic paneling to achieve a warmer acoustic tone. An official dedication ceremony and a concert featuring the Yamaha DCFX will be held in 2017 to celebrate "Fuller at 50," commemorating the 50th anniversary of the Fuller Center.
For more information about The Hartt School at University of Hartford, please visit http://www.hartford.edu/hartt. For more information about Yamaha Disklavier, please visit http://www.yamahaisg.com.