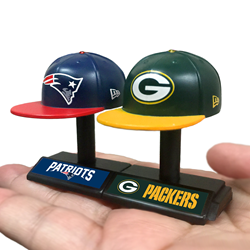 There's mystery and excitement in each pack because you never know what you are going to get.
WESTLAKE, Ohio (PRWEB) September 15, 2016
Just in time for NFL season, Party Animal, Inc., the company behind TeenyMates 1-inch collectible sports figures, is introducing a new line of mini-collectibles this month called Mad Lids. Mad Lids are collectible mini sports caps sold in blind packs that feature the official colors and logo of a professional sports team, just like a regular sized cap. Each blind pack comes with two NFL team caps and two buildable and connectable display stands. The small but highly-detailed molded plastic caps also feature tiny New Era logos to add to their authenticity. NFL Mad Lids are available now at Target stores and other retailers nationwide, with more league caps coming soon.
Party Animal, Inc. has been a staple of the mini-collectible market since NFL TeenyMates first debuted in the fall of 2012. NHL and NBA 1 inch figures were added in 2013, followed by MLB figures, and most recently WWE Superstars and Legends at the end of 2015. The TeenyMates line has grown to include figures available in blind packs, collector tins, locker room sets, collectible gift sets, and clip-on carabiner keychains.
The company has high hopes that Mad Lids will follow the success of their TeenyMates brand. "TeenyMates helped us establish a strong foothold in the mini-collectibles marketplace," says James Cantrall, owner and president of Party Animal, Inc. "We look forward to Mad Lids building on that success and helping us to expand even further within this category."
One aspect of Mad Lids that the company hopes will boost their success is their highly collectible nature. The initial lineup will feature all 32 NFL team caps plus hard-to-find rare caps. "A lot of the fun is in trying to collect all of the caps. There's mystery and excitement in each pack because you never know what you are going to get," explains Cantrall. "We will continue to add new styles and rare caps over time. This keeps the line fresh and keeps kids and collectors coming back for more."
###
About Party Animal, Inc: Party Animal, Inc. is a leading manufacturer of premium quality licensed toys, flags and décor for the National Football League, Major League Baseball, the National Basketball Association, the National Hockey League, WWE, the U.S. Army and over 60 colleges and universities. From a small business that began selling party signs in 1989, Party Animal, Inc. has grown to currently offer over 1,800 unique products sold at national and independent retail stores all across North America.