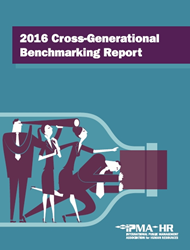 "Today, the typical public sector human resources professional could be faced with managing up to four generations in the workforce."
Alexandria, Virginia (PRWEB) September 21, 2016
The International Public Management Association for Human Resources (IPMA-HR) releases its 2016 Cross-Generational Benchmarking Report.
The survey was sent to 7,499 IPMA-HR members and received a 48 percent response rate, of which 31 percent represented millennials (born 1981-1997), 33 percent presented generation X (born 1965-1980) and 36 percent represented baby boomers (born 1946-1964).
According to the U.S. Bureau of Labor Statistics, the silver tsunami may be a whole lot of "baloney," at least for the time being. Baby boomers appear to be holding on to their jobs a lot longer, creating a bottleneck in the labor market. July 2016 marked the lowest labor force participation (62.8%) in 36 years. The lack of participation was most noticeably apparent in workers between the ages of 16 to 24 and prime-age workers, ages 24-55. It is certain that the baby boomers will leave the workforce over time, but at the present, public sector human resources professionals are charged with balancing the needs and interests of a plethora of older workers, while also attempting to attract and retain younger workers to their organizations.
It is no secret that government employment is emblematic of good benefits, job security and pensions, which continue to resonate with public sector professionals across the generations, motivating them to apply and retain government employment, according to IPMA-HR's 2016 Cross-Generational Benchmarking report. Looking across the generations, achieving good work-life balance, working with a manager they can respect, and being able to advance in their careers ranked as the top reasons to stay in the public sector for millennials and generation X employees. Benefits and job security were top motivators to keep baby boomers in government.
"Today, the typical public sector human resources professional could be faced with managing up to four generations in the workforce. The key is to think about the life stage of each generation and allocate benefits and policies that would meet the needs of each cohort, as well as overall. I'll admit, it is a bit of a tightrope," said Neil Reichenberg, IPMA-HR Executive Director.
The survey asked respondents to indicate their wants, needs and preferences regarding five predominant factors related to working in the public sector:

Appeal of working for government
Recruitment
Retention
Attitudes about work in general
Career advancement
The recruitment process is definitely an aspect of government employment that needs to be evaluated for improvement, and in many ways has been described as a barrier to applying for jobs in the public sector by many respondents. The greatest proportion of survey respondents said that the hiring process took two to three months. Millennials were much less likely to say that length of hiring was "just right," a key indicator that public sector recruitment now and in the future needs to proceed with greater agility. Those having experience with private sector hiring considered the application process for the public sector far more cumbersome and said opportunities to negotiate salary were rare.
The Executive Summary of the report is available on the IPMA-HR website.
For the full report, please contact the IPMA-HR office at hrresources(at)ipma-hr(dot)org.