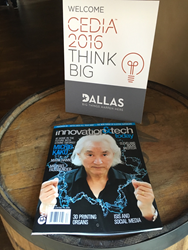 Dallas, TX (PRWEB) September 15, 2016
Innovation & Tech Today is all about home automation and smart technology. Featuring DR Michio Kaku on the cover, this issue is onsite for the 2016 CEDIA Expo in Dallas, Texas, from Sept. 13-17 and will be made available to all the attendees of this iconic annual event. Pick up your advanced copy a full two weeks ahead of the release date.
Innovation & Tech Today is partnered with CEDIA. CEDIA, is the leading global authority in the $14 billion home technology industry. CEDIA represents 3,700 member companies worldwide and serves more than 30,000 industry professionals that manufacture, design, and integrate goods and services for the connected home.
CEDIA's mission is to be a core component of its members' prosperity. Built upon a strong volunteer foundation, CEDIA provides access to industry-leading education, certification, research, and consumer awareness. CEDIA serves as the go-to home technology source for consumers and professionals alike.
In this fall issue, Michio Kaku discusses the home of the future; Dr. Anthony Atala shows us how 3D printing organs is possible; Mark Hamill from Star Wars chats about motion capture and his role in a new video game; Michael Fassbender reveals what it's like to star in the new film Assassin's Creed, and "The Martian" author Andy Weir gives us insight into the future of Mars colonization. Cleveland's emerging MedTech scene is highlighted and "Jobs of the Future, Jobs of Today" kicks off as a two part series discussing coding and cyber security jobs.
"We are partnered with a lot of events around the world, but CEDIA remains one of our favorites. The fall smart home issue debuting here amongst the most innovative brands was a no brainer," said Editor-in-Chief Charles Warner. "The products we are giving away from RIVA, LiftMaster and Venstar are past Editor's Choice winners and we know our fans will love them."
To celebrate the fall issue, I&T Today is also launching a social media campaign + giveaway. Like on Facebook or Follow on Twitter or subscribe to show your enthusiasm for Innovation & Tech Today and to be entered to win 1 of 5 Venstar smart thermostats, 1 of 5 MyQ LiftMaster Smart Garage Openers, and 1 RIVA Turbo X. Giveaway ends Sept. 30th.
Innovation & Tech Today's fall issue will go on sale at every Barnes & Noble and Micro Center in North America and select retailers and news stands October 3, 2016 with a cover price of $9.99. It is also available on every major digital platform including Magzter, ZInio, Apple Newsstand and the Amazon Kindle.