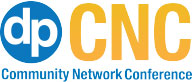 ...an exciting opportunity to learn, network, and be inspired.
Horsham, PA (PRWEB) September 14, 2016
More than 300 nonprofit executives from across the country, whose organizations raise millions of dollars for countless humanitarian causes across the globe, will convene at the Pennsylvania Convention Center in Philadelphia, September 19 and 20 for the 6th annual DonorPerfect Community Network Conference. Participants will choose from more than 40 workshop sessions led by industry experts, designed to help them enhance their productivity, advance their mission and secure their futures.
Jon Biedermann, Vice President of Fundraising Products for SofterWare, Inc., describes the conference as "...an exciting opportunity to learn, network, and be inspired." Biedermann was responsible for the 2001 launch of DonorPerfect Online, which pioneered web-hosted funding solutions for nonprofit organizations. He will head up a team of speakers, developers, technical support staff and trainers who will offer fundraising best practices and one-on-one consultations on the use of DonorPerfect technology to maximize fundraising success.
The keynote speaker for the Conference is Andrew P. Watt, immediate past president and CEO of American Fundraising Professionals, a global network of more than 30,000 fundraising professionals and 2500 nonprofit organizations. He views nonprofits as a critical interface between the public and government and is an outspoken advocate for philanthropy on Capitol Hill, in the Canadian Parliament, and other legislatures around the world.
Other notable presenters at the Conference include: Jeffrey Byrne, board chair of The Giving Institute, an organization committed to developing extraordinary leaders in the world of philanthropy. His firm, Jeffrey Byrne and Associates, Inc. has partnered with more than 320 nonprofit organizations across the U.S. to raise more than $1,250,000,000; Beth Brodovsky, president, Iris Creative Services, a company that specializes in helping organizations develop communications strategies, tactics and tools to enhance visibility; Jodi Rosen, senior manager of Philanthropic Services for Vanguard, Rosen leads a team that collaborates with high net worth clients to support their philanthropic goals; Matthew Montoya, national product trainer for Constant Contact and David Castlehano, Cloud Support engineer for Amazon Web Services.
For more information about the DonorPerfect Community Network Conference, visit http://cnc.donorperfect.com/about-cnc/.
SofterWare: SofterWare is based in Horsham, Pennsylvania, a suburb of Philadelphia, was founded in 1981 to develop and support software that is easy to learn, easy to use, and adaptable to users' unique needs.In more than 30 years, it has grown exponentially from a small entrepreneurial business to a $40 million+ company with over 10,000 nonprofit, childcare, camp, school, and payment processing clients.
DonorPerfect: DonorPerfect provides complete fundraising and donor management nonprofit software to help nonprofit organizations reduce their workload and build relationships with their constituents.
Editors' Note: Interview opportunities available with conference presenters and keynote speaker. To schedule, please call Sam Goldenberg, Marketing Director, at 215-542-4388 (office).