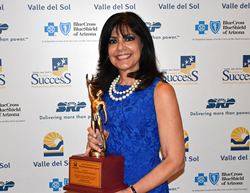 TEMPE, Arizona (PRWEB) September 14, 2016
Dr. Maria Harper-Marinick, Chancellor of the Maricopa Community Colleges, received the Profiles of Success Special Recognition award at the 28th Annual Hispanic Leadership Awards Celebration, sponsored by Valle del Sol. The yearly event recognizes Hispanic individuals for their service to community, advocacy, and leadership, and serves as Valle del Sol's largest fundraiser in support of healthcare, human services and leadership development programs and services.
Dr. Harper-Marinick was nominated for exceptional leadership at the Maricopa Community College District and her significant contributions to local and national higher education organizations. Among her peers, she is known for her dedication as a tireless champion of higher education opportunities for thousands of students in Maricopa County. During her tenure as an executive leader, she has worked to build the stature and recognition of the Maricopa Community Colleges locally, nationally, and internationally.
In addition, Dr. Harper-Marinick serves on several professional boards and councils related to education, including the Federal Advisory Committee on Student Financial Assistance, National Community College Hispanic Council (president-elect), American Association of Community Colleges, Arizona Minority Education Policy Analysis Center, and Latina Giving Circle.
###
About Maricopa Community Colleges
The Maricopa Community College District includes 10 regionally-accredited colleges–Chandler-Gilbert, Estrella Mountain, GateWay, Glendale, Mesa, Paradise Valley, Phoenix, Rio Salado, Scottsdale and South Mountain–and the Maricopa Corporate College, serving more than 100,000 students with two-year degree, certificate, and university transfer programs.