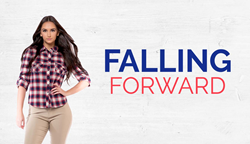 'Sweater-weather is at it's prime!"
Elizabeth, New Jersey (PRWEB) September 27, 2016
Fall is a favorite time of year for many, and it's finally here! School is back in session, the leaves are changing colors, and pumpkin spice is at its prime. Most important, however, are the fall fashions that hit the stores once the cooler weather rolls in. Everyone loves sweater-weather, and now shoppers can find the perfect outerwear online at Kohesion! This year, Kohesion has their own sale to add into the mix, and it's more exciting than ever! Between the start of school and the approaching holidays, there will be many opportunities for fashionistas to look their best. Kohesion's online exclusives can help everyone do just that.
It might be crazy to think of right now, but the chillier temperatures are rapidly approaching. Instead of covering up the trendy crop tops still lingering from summer, enhance them with a cool bomber jacket or a glamorous trench coat. Need something delicate to pair with a cold-shoulder blouse for Thanksgiving dinner? Try one of Kohesion's sweet cardigans. Available in solids, and prints, cardigans are a must-have for autumn. They also go well with Kohesion's soon to be released suede, body-con dresses.
Dresses are a go-to for more formal occasions. Luckily, Koheshion has a plethora of knit, glitter-embellished, and off-the-shoulder dresses to complete any look. If cost is a concern, there's no need to worry. It's not necessary to break the bank in order to look one's best when shopping at Kohesion. Their already competitive prices can be reduced even further by using promo code 'FALLINLOVE' for an additional 10% off any order, now through October 31st.
For those looking for more casual options, try jeans. Kohesion recently released their own line of denim wear. This complete collection includes low-rise, mid-rise, and high-waisted jeans. Choose between pants with and without pockets, and be sure to check out Kohesion's signature wide-legged fit for a more retro feel. October is the time to get creative, so why not use Kohesion's very own denim line as a jumping-off point?
For more information, and to learn how to become a true Kohesion girl, be sure to check out the blog for fashion inspiration and style tips.Whatever you do, whatever you wear, be sure to put your trendiest foot forward and 'FALLINLOVE' with Kohesion's new finds!