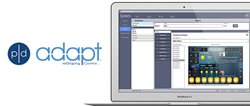 ...the ADAPT suite has been a real game changer for ACS.
Grapevine, TX (PRWEB) September 14, 2016
PD ADAPT, LLC – ADAPT is pleased to announce that Audio Command Systems (ACS) is now an ADAPT dealer. Based in New York, but with offices around the US, ACS is a Crestron dealer and one of the largest audio/video integration companies in North America. Michael Grady, co-CTO for ACS, began a lengthy evaluation process of the ADAPT software earlier this year.
"I have evaluated dozens of 3rd party Crestron programming options through the years always with the same result, not enough customization, not supportable long term, and/or just poor programming standards," Michael said. Once I saw capabilities and amount of control available from the ADAPT software I knew the game had changed."
Ultimately, Michael determined that ADAPT provides a unique set of tools that is unmatched in the industry. It was an intuitive decision from there to partner with PD ADAPT and its parent company, PanTech Design, to transition their Crestron programming services to the ADAPT platform.
"We have recently started to use ADAPT exclusively. In our first project we saved 25% programming time versus similar projects. As we become more proficient in programming ADAPT I expect to see these numbers to drop another 25-35%. Overall the ADAPT suite has been a real game changer for ACS. This has allowed us to provide our clients a system with more features while drastically reducing programming times," Michael remarked. "The staff at PanTech Design has been an incredible team to work with and we look forward to collaborating with them and continue our relationship long into the future."
Troy Morgan, founder of PanTech Design and PD ADAPT, commented on the new relationship: "Partnering with ACS is a big win for both of us. ACS has a long history of success as a leader our industry. As an ADAPT dealer, their involvement will be invaluable in guiding the future development and direction of this groundbreaking product. And we, in turn, get to be a valuable part of their success."
CEDIA 2016 attendees will be able to see the ADAPT software suite in action on September 15-17 at Booth #8014, in Dallas, TX.