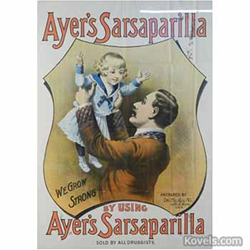 Cleveland, Ohio (PRWEB) September 15, 2016
Items from the personal country store collection of antiques experts Terry and Ralph Kovel are going to auction on Saturday, September 17. The Kovels' "country store" has served as the "anchor desk" for their TV shows, a party room, and a game room for their family. Collectors and flea market enthusiasts will find many items seen in their HGTV show, Flea Market Finds with the Kovels, and pictured in Kovels' books and newspaper columns.
The September 17th auction includes more than 400 lots, everything from billboards and bottle caps to signs and store displays. Offered will be many recognizable non-food items like tobacco, auto, political, medical and cosmetic signs, as well as bottles, scales, display cases, fixtures, full-sized grocery store displays, war posters, and collections of keychains and labels. Highlights include a large Ayer's Sarsaparilla poster picturing a man holding a child and the words "We Grown Strong by using Ayer's Sarsaparilla," and a 42-inch E-C Corn Flakes poster that says "You can't fool the farmer."
The live auction will be at Rachel Davis Fine Arts Auctioneers, 1301 W. 79th St., Cleveland, Ohio, 44102, RachelDavisFineArts.com, starting at 9:30 a.m. (EDT). Besides live and in person bidding, Internet bidding will be facilitated by LiveAuctioneers.com and Invaluable.com. Phone and absentee bids will also be accepted. No reserves.
Complete online catalog with pictures, and descriptions can be viewed at RachelDavisFineArts.com. A printed catalog (with lot descriptions, no images) is also available.
Terry Kovel is America's foremost authority on antiques and collectibles. She is the well-known columnist and author of more than 100 books on antiques and collecting. With her daughter, Kim Kovel, she co-authors the best-selling annual Kovels' Antiques and Collectibles Price Guide. The all-new 2017 price guide is available now for pre-order at Kovelsonlinestore.com and will soon be available in local bookstores. They will discuss antiques and collectibles topics with accredited media. Most of the pictures from the September 17, 2016, sale are available. Contact pr(at)kovels(dot)com.
About Kovels.com
Kovels.com, created by Terry Kovel and Kim Kovel, provides collectors and researchers with up-to-date and accurate information on antiques and collectibles. The company was founded in 1953 by Terry Kovel and her late husband, Ralph. Since then, the Kovels have written some of America's most popular books and articles about antiques, including the best-selling Kovels' Antiques and Collectibles Price Guide 2017. The website, Kovels.com, online since 1998, offers more than a million free prices, and includes a free weekly email, "Kovels Komments." It gives readers a bird's-eye view of the market through the latest news, auction reports, a Marks Dictionary, readers' questions and answers and much more.
Contact Information:
Liz Lillis
216.752.2252
Pr(at)kovels(dot)com