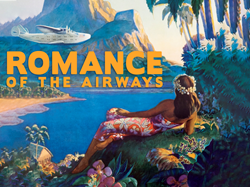 Pan Am's Flying Clipper posters are considered the Holy Grail of airline poster art. Romance, adventure and wonder - they epitomize the golden age of travel.
Boston, MA (PRWEB) September 20, 2016
International Poster Gallery is excited to announce its exhibition "Romance of the Airways: Pan Am's Timeless Posters of the 1930s" featuring 13 poster masterpieces that capture the golden era of Pan Am's remarkable Clippers. The advent of these gigantic seaplanes not only made trans-ocean air travel possible, but luxurious as well. Pan Am capitalized quickly by hiring P.G Lawler to design several stunning posters from 1937 to 1939.
The exhibition is on view at the Gallery located at 205 Newbury Street, Boston from September 20 through October 5, 2016. The gallery is open daily from 10am – 6pm and Sunday from noon – 6pm.
In 1927, Charles Lindbergh's transatlantic flight suddenly made the world a smaller place. Adventures never imagined seemed possible. The mania for flying captivated the public, and every advancement made front page news.
The reality of trans-ocean travel was not so simple however. There were no planes or landing strips capable of these flights, no weather, navigation, safety or communication systems in place, and no international agreements to organize them. To put this into perspective, until 1933, the fastest coast-to-coast schedule took 27 hours with 14 stops, all flown in daylight!
One company -- Pan Am, headed by the enterprising Juan Trippe -- had the vision to solve all of these problems. In a series of remarkable steps during the Twenties, the persistent Yale graduate and WWI pilot parlayed his connections and far-reaching vision into the largest air transport company in the world. By 1930, what had started as a 90 mile route from Key West to Havana had grown into a 10,000 mile network that blanketed the Americas.
This was just an appetizer - in the Thirties, Trippe quickly set sights on Europe and Asia, and then Australia. With landing strips unable to support intercontinental aircraft at that time, he placed orders for long-range seaplanes, which he quickly dubbed Clippers, evoking the days of the great sailing ships of the 19th century. In the years leading up to World War II, as each increasingly sophisticated Clipper went into service, headlines - and gorgeous posters - traced Pan Am's triumphant march around the globe - a total of 65,000 route miles.
Early on, Pan Am had developed the art of public relations to make flying sound romantic, when it was in reality slow, noisy and dangerous. The advent of the Clipper made flying an adventurous indulgence, and the breathtaking posters created by P.G. Lawler from 1937 to 1939 for Pan Am instantly became classics. To this day, these posters are considered the Holy Grail of airline poster art, one of the most sought after categories of poster collecting. "We are extraordinarily lucky to feature a complete set of these beautiful and historic posters in our exhibition," states Jim Lapides, President of International Poster Gallery. "I dare anyone to be surrounded by these posters and not be swept to places long ago and far away."
International Poster Gallery is one of the premier original vintage poster galleries in the world. Since opening twenty-two years ago on Newbury Street in Boston, the gallery has hosted more than 50 thematic exhibitions, such as Art Deco and Mid-Century Modern poster masterpieces, posters of the Russian Revolution, posters of the Golden Age of Travel 1890-1939, and the first U.S. exhibitions dedicated to Italian vintage posters.
Originally launched in 1998, the gallery's website features more than 4,500 posters accessible through a powerful search engine, and offers helpful information about poster collecting.
Editor's Note:

Background, B&W Photos and Color Slides available.
Support for feature development on poster collecting available.
Interviews with gallery owner Jim Lapides are encouraged.