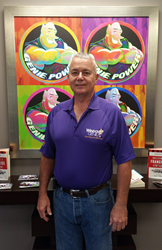 Considering my dire need for a flexible schedule that would give me the work-life balance I so missed, Window Genie floated to the top of the list and never fell.
Knightdale, NC (PRWEB) September 16, 2016
Window Genie announces the grand opening of its newest location in Knightdale on September 19th. Mike McFarland is the owner. Window Genie is a national home service franchise specializing in residential and light commercial window cleaning, window tinting, pressure washing, gutter cleaning and more. Window Genie of Knightdale will service the eastern Raleigh communities from Knightdale to Zebulon.
McFarland is no stranger to small business. At 16 years old he was his hometown's youngest business owner, taking over his father's vending machine business. He said, "I got my license and started a vending machine route. Working hard to support myself and my family, and being my own boss has always stuck with me. I look forward to having that type of autonomy and control over my own success again."
At 20, McFarland joined the U.S. Air Force. After almost 8 years of service, he joined corporate America working as a store manager for one of the nation's largest big box stores. "I saw during my 20-year career that they really lost their value system," he said. "I made a name for myself as a store fixer. I travelled to struggling stores and helped turn them around, always being promised I would be taken care of. That never happened, not once. Finally, I woke up and smelled the coffee and left."
In 2014 McFarland moved onto another large company with their promise of a better work-life balance. That claim also proved to be untrue. "I lost faith that large companies were capable of living up to their promises to employees. Their claim of being a family-centered company, with great perks and a focus on work-life balance couldn't be further from the truth." Earlier this year, he decided to make a huge change and pursue business ownership.
According to the U.S. Bureau of Labor, about 15 million people are self-employed; that accounts for over 10 percent of working people today. With the help of a franchise coach, Scott Diener of The You Network, McFarland was able to rifle through the thousands of franchise opportunities available today. "Considering my dire need for a flexible schedule that would give me the work-life balance I so missed, Window Genie floated to the top of the list and never fell," he said. "What sealed the deal for me was speaking to existing owners, about 15 of them. I spoke to Window Genie franchisees from all regions of the country, some have been in business over 10 years, some just one year. The message was consistent; they were happy, they trusted the system and the company had a truly healthy and positive culture."
Aside from the lifestyle aspect of the business, McFarland says he looks forward to the potential for growth in his local market. He said, "With Window Genie I'm offering multiple services year-round. With multiple services comes multiple revenue streams, and potential to earn repeat business. I'm excited to get out there and build a customer base and get reconnected to my local community."
Window Genie of Knightdale officially opens on September 19th. Estimates are free, field technicians are fully trained, insured, bonded and have passed a background check. For more information, contact owner Mike McFarland at mmcfarland(at)windowgenie.com or by calling (919) 373-8855.
###