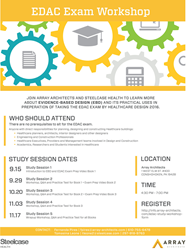 "It is my mission to empower everyone I work with to find the best solution." - Fernanda Pires, EDAC, Array Architects Healthcare Planner
Philadelphia, PA (PRWEB) September 15, 2016
Array Architects, with several EDAC staff, is hosting a series of study sessions to assist interested professionals prepare to take the exam. The study sessions are co-sponsored by Steelcase Health. The sessions are open to anyone involved on the design of healthcare facilities. In addition to preparing for the exam, the sessions will focus on the use of EBD in practice and why it is important to the healthcare design industry, so all can benefit from learning about and become part of the movement.
Dates for the study sessions (4:30-7:30 pm), held at Array's Conshohocken, PA, headquarters (1 West Elm Street, Suite 400, Conshohocken, PA 19428) are as follows:
September 15th and 29th
October 20th
November 3rd and 17th
Array is recognized as a leader in healthcare facility planning and design, offering a full complement of knowledge-based services including planning, architecture, interior design and asset advisory from our eight office locations. Our design process uses Lean as a foundation for a unique Process-Led approach that better meets the needs of today's healthcare organizations. Array's devotion to a healthcare-exclusive practice springs from our belief in the power of design to improve patient outcomes, maximize operational efficiencies, increase staff satisfaction and provide remarkable results for our clients.