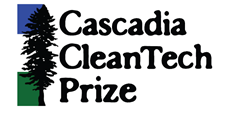 SEATTLE and PORTLAND, Ore. (PRWEB) September 15, 2016
TryEco won top honors at the Cascadia CleanTech Prize competition held at Oregon BEST FEST. Powered by CleanTech Alliance and Oregon BEST, the Cascadia CleanTech Prize invites top cleantech startups to compete for $10,000 in non-dilutive funding in front of top Pacific Northwest industry leaders and investors.
Nine emerging cleantech startups competed in the inaugural Cascadia CleanTech Prize across three categories – growth stage, launch stage and accelerator stage. TryEco was named the top growth stage company and took home the $10,000 grand prize. Beta Hatch was named the top launch stage company, and SmartVineyards was named the top accelerator stage company.
The nine participating Cascadia CleanTech Prize participating companies included:
Growth Stage Competitors
TryEco agricultural technology acts like a sponge, absorbing water on contact to create "miniature water reservoirs" in the soil. Because water is being held in a localized zone, plants can take advantage of an on demand water supply. Irrigation efficiency is increased as a result, creating longer intervals between irrigation cycles while improving plant health and survival rates.
IOTAS is the smart home experience designed specifically for renters. By partnering directly with property developers, the company installs and sets up apartments with smart outlets, switches and sensors before the renter moves in to deliver a great experience from day one without lifting a finger.
VeloMetro is creating the next wave of sustainable personal transportation. The company's goal is to provide a completely sustainable transportation option for urban commuters around the globe that is also cool, cost-effective, environmentally friendly and fun to ride.
Launch Stage Competitors
Beta Hatch grows insects for food, feed and fertilizer. The company farms high-protein insects for chickens and creates balanced and natural fertilizer for plants. The immune boosting benefits of its products mean fewer antibiotics in poultry and less pesticide on our fruits and veggies.
Allumia delivers immediate savings by installing high efficiency lighting in buildings with no investment required from the customer. Payments are generated from a portion of the proven energy savings, measured by revenue-grade electric meters installed alongside the upgraded lighting.
eChemion makes today's redox flow batteries better, and tomorrow's batteries possible. The company's technology protects reaction surfaces from oxidative damage during battery cycling without sacrificing electro catalytic activity in redox flow battery cores.
Accelerator Stage Competitors
SmartVineyards means smart irrigation in every vineyard block. The company delivers actionable data in real time at an affordable price. Use only the water you need, no more, no less.
EasyXAFS accelerates cleantech materials innovation by providing instant access to x-ray spectroscopies for the first time. The company's bench-top, turnkey instruments enable measurements on demand, reducing the learning cycle from years to hours.
Imber Water Treatment developed an onsite, modular, turnkey water treatment and recycling system that reduces commercial building water consumption by as much as 40% with a payback period less than 28 months.
The three accelerator stage companies each participated in the Cascadia CleanTech Accelerator offered by CleanTech Alliance and Oregon BEST. The 12-week accelerator program delivers mentorship, curriculum, connections and funding opportunities designed specifically for cleantech startups in the Pacific Northwest.
To learn more about Cascadia CleanTech, contact Gabe Boeckman at gabe(at)cleantechalliance(dot)org or Vanessa Margolis at vanessa.margolis(at)oregonbest(dot)org.
About the CleanTech Alliance
CleanTech Alliance Washington represents 300 member businesses and organizations. Founded in 2007 by business leaders, the Alliance facilitates the generation and growth of cleantech companies, jobs, products and services to advance the state's position as a leader in cleantech. The Alliance offers a range of business services and benefits uniquely designed to help businesses gain visibility, access services at a lower cost and benefit from public policy advocacy.
About Oregon BEST
Oregon BEST funds and assists cleantech startups, bringing together Oregon's significant R&D strengths to support entrepreneurs in the creation of new products and services. As the nexus for clean technology innovation, Oregon BEST builds capability, convenes collaborations and accelerates solutions to environmental challenges that deliver prosperity in all corners of Oregon. More than 250 Oregon BEST Member Researchers and a network of nine Oregon BEST Labs at four partner universities (Oregon State University, Oregon Tech, Portland State University, and University of Oregon) offer research expertise and lab equipment to industry. Oregon BEST competitively awards Early-Stage Investments to collaborations between startup companies and Oregon BEST Member Faculty at partner universities.