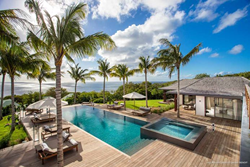 St Barths, French West Indies, Caribbean Islands (PRWEB) September 15, 2016
Those on the lookout for extraordinary properties to call home for the week will enjoy seeing the top five new villas in St.Barths unveiled by WIMCO Villas today. Each summer, WIMCO's villa specialists inspect all new properties on this French Caribbean island that are nearing completion. A select few are added to the villa rental specialist's portfolio, and the top five are designated as la crème de la crème. From villas with sprawling wine cellars, to unmatched views, these five define the cutting edge of style and comfort.
1. Villa Blanc Bleu (WV BLB) - A six bedroom villa near Gouverneur beach with a tennis court. "The villa has every convenience," notes a Villa Specialist, "and its great room makes it the perfect place to entertain." Rental prices start at $4,286 per night.
2.Villa Ginger (WV GIN) - A five-bedroom villa in Petite Saline with views over St. Jean Bay to distant Anguilla and St Martin. "You feel like you're on top of the world here," says the WIMCO team, who stayed here in July. The villa is ideal for a family with three or four kids, or couples traveling together. Rental prices start at $1,714 per night.
3. Villa Utopic (WV UTO) - A three-bedroom villa in Corossol with a views of Gustavia harbor. "It's ultra luxe, and features artwork by Desiree Dolron and photographer Robert Mapplethorpe," says a Specialist. Rental prices start at $2,857 per night.
4. Villa Bel Amour (WV LOV1) - A one-bedroom villa on Pointe Milou with original artwork and a superb layout. "It offers some of the most spectacular views of any one-bedroom on the island," notes a team member. Rental prices start at $986 per night.
5.Villa Legends B (WV LGB) - A five bedroom villa in Lurin, within minutes of Shell Beach and Gustavia. "This villa's top of the line electronics (including underwater speakers) make it the perfect place for entertaining. That, and the impressive wine cooler, which guests can sample from," says a WIMCO specialist. Rental prices start at $2,857 per night.
With travelers expecting more from vacations - such as personalized itineraries and 24/7 concierge service - but having less time to organize the details, WIMCO has become a go to resource for travel agents and time-starved couples. Their villa specialists average ten years of experience and will suggest villas based on each clients' specific wishes, such as how much shade or sun a villa receives.
About WIMCO Villas
Recently featured on the Today Show, Forbes Life, and HarpersBazaar.com, and winner of Travvy and Magellan awards, WIMCO offers a selective and personally inspected collection of private villas. Veteran and well-traveled villa specialists provide trip planning both before and during a guest's vacation. Their primary job is to match clients with the right villa for their lifestyle and budget, and then arrange every aspect of their trip, from flights to car rentals to private chefs and more. Their collection includes villas on eleven Caribbean islands (including St. Barths, Turks and Caicos, and Anguilla) and throughout Europe (including St. Tropez, Mykonos and the Amalfi Coast and Capri). Start vacation planning at http://www.wimco.com, or speak directly with a villa consultant at +1 (401) 849-8012. WIMCO also has a real estate sales office on St Barths. Inquiries for villa rentals or real estate may be sent to info@wimco.com