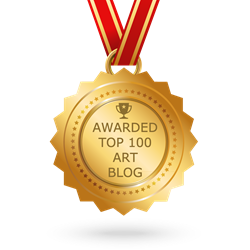 'To see that blog posts inspired by my father's contemporary art...are recognized among the many fine art blogs published is special for us.' - Anaya Nieto
San Francisco, CA (PRWEB) September 15, 2016
Nieto Fine Art, the virtual art gallery of contemporary American Indian artist John Nieto, announces that its blog site was named to Feedspot's "Top 100 Art Blogs Every Artist Must Read." With inclusion in the list, which is the most comprehensive on the Internet, Nieto Fine Art's blog demonstrates the artist's passion to his work and his Native American roots.
"We are very honored to receive this distinction," stated Anaya Nieto, the artist's son and Operations Manager. "To see that blog posts inspired by my father's avant-garde art - as well as all of the artists we represent - are recognized among the many fine art blogs published is very special for us." The blog is a source of information and inspiration for Southwest and modern art lovers as well as current and prospective artists worldwide.
The website includes blog posts that discuss:

How Art Affects Health
Starting a Contemporary Art Collection
Wildlife Symbolism in Native American Art
Overcoming Stereotypes with Contemporary Native American Art
And many other topics in its archives.
For more information and to read the blog posts on the site, please visit blog.nietofineart.com. To view the artworks first-hand, please stop by their booth at the Slopoke Western Art Rodeo in Pismo Beach, CA, on October 8th and 9th.
About Nieto Fine Art
As one of America's most compelling present-day artists, John Nieto's career spans four decades. The Native American artist and his fine art have been featured in numerous Southwestern Art magazines and has met with such dignitaries as former President George H.W. Bush, actor Dennis Weaver, actor/painter Will Sampson, and singer Peter Cetera. During his term in office, President Ronald Reagan met with the artist and was presented with Nieto's painting "Delegate to the White House." To learn more and view his recent art decor, please visit http://www.nietofineart.com.