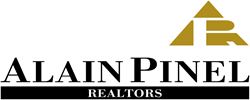 Today's home buyers and sellers rely on technology that is as mobile and plugged in as they are.
SARATOGA, Calif. (PRWEB) September 15, 2016
Alain Pinel Realtors, the nation's sixth-largest real estate brokerage, officially launched its next generation real estate website today at http://www.apr.com. The new site will allow users to access APR's smart technology from anywhere and on any device, using sleek, modern and responsive design features. An intelligent property map search works the way people live, including commute times and school district information that are critical to today's home buyers. The new website also offers dynamic, real-time market data that helps make it a complete, one-stop information source for both buyers and sellers.
Additional new features for the APR site include robust property detail pages, streamlined searches for users to more easily find APR offices, agents and listings, intuitive open house and new home listing searches, and community pages that include beautiful photography, video and background information to help buyers better appreciate the many lifestyle opportunities available in Northern California.
"Today's home buyers and sellers rely on technology that is as mobile and plugged in as they are," explained APR COO Rainy Hake. "Our vision was to develop a smart technology platform that meets them where they live, offering easy access to information that will help them make more informed decisions. We're also using the site to supply our agents with the latest information and technology to maintain their competitive edge in the market."
For prospective home buyers unfamiliar with certain locales, APR's Vice President of Technology Tom Flanagan pointed to the site's new proximity search feature as a significant leap forward in real estate search.
"Beyond showing you traffic patterns and area school information, using the proximity search on the new APR site will allow you not only to search by address, but also by nearby landmarks and other points of interest," explained Flanagan. "This is a huge value-add for those looking for a home in the Bay Area who might not be as familiar with the the diverse range of environments available to them."
A number of features included in the new website are designed to help promote the personal brand of the brokerage's more than 1,400 Realtors, including agent-branded URL addresses and web pages that include biographical, contact and listing information.
Founded in 1990, APR was a pioneer of real estate technology, establishing one of the first real estate websites that allowed consumers to access listing information online.
About Alain Pinel Realtors®
Alain Pinel Realtors (APR) is the sixth largest residential real estate firm in the United States and the largest privately-owned residential real estate company in Northern California based on its closed-sales volume. The firm has 1,400 agents in more than 30 offices throughout Northern California. APR was founded in 1990 by CEO and President Paul L. Hulme, and is based in Saratoga, Calif. Visit us at apr.com, china.apr.com, facebook.com/AlainPinelRealtors, and @AlainPinel.