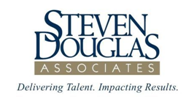 "On a national scale, the success of this division is largely due to Dan's involvement and leadership right from its establishment."
Fort Lauderdale, FL (PRWEB) September 15, 2016
Steven Douglas Associates is pleased to announce the promotion of three key executives in the Interim & Project Services Division. Effective immediately, Dan Hafetz and Jon Bolton have each been promoted to Senior Vice President and Karen Melby has been promoted to Vice President.
Dan Hafetz has been with Steven Douglas for over 10 years. Prior to joining the firm, Dan spent 10 years in a variety of accounting, human resources and recruiting positions. Interim & Project Services Division President Mark Viner said, "On a national scale, the success of this division is largely due to Dan's involvement and leadership right from its establishment."
Jon Bolton has been with the firm for eight years. Prior to joining the firm, Jon was National Director in a global recruiting firm for approximately 10 years. "Jon was one of the top producers at a competing firm when he took a risk and joined SDA to open our NYC office and it paid off. He's a great leader and has built an incredible internal team of very talented employees. There is no doubt that the overall success of this office is a direct result of Jon's leadership and his team's talent, passion and commitment," Viner remarked.
Karen Melby has been with Steven Douglas more than nine years. Prior to joining Steven Douglas, Karen led the Minneapolis office of a global professional services firm to an all-time high for revenue growth, profitability and employee headcount. Viner noted, "Karen has been the primary reason for our success in Minneapolis, and we are thrilled to promote her to this important position."
"These advancements acknowledge the tremendous growth that these leaders have achieved in the markets they represent," said Matt Shore, President of Steven Douglas Associates. "Under their strong leadership, these offices should continue to experience exponential growth and expansion. We congratulate Dan, Jon and Karen on their well-deserved promotions."
Steven Douglas Associates, one of the nation's leading boutique search and project resources firms, has been a recognized leader in identifying and providing access to top talent for corporate clients since 1984. Our client base is industry agnostic and ranges from start-ups and emerging middle-market to Fortune 500 companies and public, private and private equity owned firms.
Our firm is composed of two synergistic divisions: The Search Division is focused on placing professional staff to executive level management in the areas of Finance and Accounting, Financial Services, Information Technology, Sales, Marketing, Operations, Human Resources and Health Services. The Interim & Project Services Division helps businesses effectively manage change by providing them access to experienced and talented professionals on an as-needed and variable basis in the areas of Finance and Accounting, Information Technology, and Human Resources.