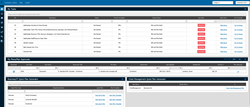 Our new look and feel is unmatched in the BC/DR industry.
Philadelphia, PA (PRWEB) September 15, 2016
Strategic BCP, Inc.—innovators of the market-leading ResilienceONE® business continuity management (BCM) software, today announced the availability of Version 8.0, which offers new, pinpointed screens and clean navigation across any device. The new enhancements complement the power and flexibility of ResilienceONE—making it the most simplified user experience in the Business Continuity and Disaster Recovery industry.
Version 8.0 includes:

IMPROVED PLAN DEVELOPMENT: With just one click, users can easily access their tasks, generate consistent plans, and route them through approval workflows—with no setup required. ResilienceONE's new user interface makes things easy.
NEW TASK WIZARDS: As tasks are assigned to users, a built-in Wizard is automatically generated in ResilienceONE making setup seamless for administrators.
CLEAN LOOK & FEEL: ResilienceONE's new user interface offers ease of use across over 40 BCM job activities including program management, data gathering, analysis and reporting, testing, and maintenance.
Version 8.0 also includes functionality enhancements to many popular ResilienceONE features.
"We continually strive to simplify BCM decision-making for our customers when they are confronted with disaster recovery and business interruption situations," said Frank Perlmutter (CBCP, MBCI), President and Founder of Strategic BCP. "Our new look and feel is unmatched."
Strategic BCP will debut ResilienceONE Version 8.0 at the Disaster Recovery Journal (DRJ) Fall World 2016 Conference in Phoenix Arizona on September 18-21—an event it will sponsor.
At the conference, attendees will get a first look at Version 8.0 through private and booth demonstrations. Strategic BCP's participation will also include:
Customer presentations with Cisco Systems, United Bank, and PlainsCapital Bank.
Consultations with members of Strategic BCP's Professional Services organization.
Partnership with Everbridge; Critical Communications & Enterprise Safety Applications
Networking dinner that includes Tequila Tasting and Cigar Rolling.
During exhibit hours at the conference, visit Booth 505-507.
Version 8.0 and the full capabilities of ResilienceONE are accessible for evaluation by requesting a personal demonstration with an enterprise consultant.
About Strategic BCP
Strategic BCP's ResilienceONE® Business Continuity Management Planning software enables real-time resiliency and disaster recovery with built-in intelligence that offers the most direct path to ROI. Our experts have mapped, streamlined, and automated over 40 BCM job activities: program management, data gathering, analysis and reporting, testing, and maintenance. Customers report gains of over 94% in efficiency using ResilienceONE over other methods and tools and are up and running in weeks with no implementation or configuration fees. We incorporate your expertise—with no blank slate framework headaches or excessive required configurations. Over 350,000 users across all industries build and maintain cost-effective, action-based plans that can be implemented immediately in the event of emergency business disruptions. To do this, they leverage industry-specific business processes, recovery mappings, compliance wizards, policy libraries, crisis communications tools, and exercise/test management features—along with GRC tools. The product is offered in the Cloud or On-Premise and has been positioned as "Leaders" by Gartner three years in a row. Strategic BCP's professional services organization helps navigate obstacles within BC to Disaster Recovery and Strategic IT Planning. For more information, visit http://www.strategicbcp.com, read the company blog, and follow on Twitter, LinkedIn, and Facebook.