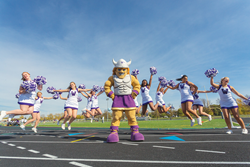 Forest City, IOWA (PRWEB) September 20, 2016
Waldorf University invites alumni, friends and local community members to join its annual Homecoming weekend celebration on Oct. 7- 9 in Forest City. During the three-day event, guests will have opportunities to connect with fellow Warriors and friends through luncheons, banquets, athletic events and more.
Friday, Oct. 7
This year's Homecoming will kick off Friday, Oct. 7, with the Athletic Hall of Fame Induction at 5:30 p.m. and the CommBack KickBack Reunion at 6 p.m.
Join Homecoming candidates at the annual Candidate Review at 9 p.m. and finish the evening with the 10 p.m. Warrior Bonfire/Pep Fest and Coronation.
Saturday, Oct. 8
Saturday morning, Oct. 8, will feature the Homecoming parade at 10 a.m., with a slight adjustment in the route from past years. The parade lineup will start near Immanuel Lutheran Church and head north on 6th Street, passing in front of Salveson Hall before turning west onto J Street and ending at the Fieldhouse on John K. Hanson Drive.
The community is invited to attend a family-friendly tailgate party at Bolstorff Field from 11 a.m. to 1 p.m., featuring lunch, inflatables, bags and face painting. Waldorf alumni are invited to join the All-Class Alumni Luncheon beginning at 11 a.m. at the Fieldhouse gym or the Special 50th Class Reunion Luncheon in the Salveson Ballroom, also beginning at 11 a.m.
Saturday afternoon, the annual Homecoming Art & Craft Fair will be hosted in the Fieldhouse from 1-4 p.m. and will feature items by area vendors and alumni. The event is free and open to the public.
Saturday evening, the men's and women's soccer teams will honor their senior players at Senior Night against Presentation College on Bolstorff Field. The women's soccer game will begin at 5 p.m. and the men's game will begin at 7 p.m. In addition, the Waldorf hockey team will play against DePaul University at 7:30 p.m. in Albert Lea, Minnesota.
The Taste of Waldorf Alumni Banquet begins at 5:30 p.m. on Saturday in the Fieldhouse. This year, Waldorf will honor two alumni with the Alumni Distinguished Service Award. Award recipients include Bruce E. Carter, class of 1973, and Capt. Donald R. Shunkwiler, USN Ret., class of 1976. Following the banquet, music will be provided by the Waldorf Choir and Wind Ensemble as they present their Homecoming concert.
Sunday, Oct. 9
Sunday wraps up Homecoming weekend with the annual Homecoming worship service at Immanuel Lutheran Church and the 2 p.m. Musical Theatre Showcase in Smith Theatre.
The following events require tickets for entry. Tickets may be purchased by completing the Waldorf University Homecoming registration form, available on the Waldorf website. Deadline to purchase tickets is Sept. 30.

Athletic Hall of Fame Induction Banquet – Friday, Oct. 7 at 5:30 p.m.
All-Class Alumni Luncheon – Saturday, Oct. 8 at 11 a.m.
Special 50th Class Reunion Lunch – Saturday, Oct. 8 at 11a.m.
Taste of Waldorf Alumni Banquet – Saturday, Oct. 8 at 5:30 p.m.
For more information or to see the entire list of Homecoming activities, call (641) 585-8148 or visit Waldorf.edu/Homecoming. Event times are subject to change.