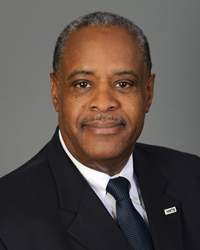 With an expert like Al at their service, our Atlanta-area infrastructure clients will have an exceptional resource to offer guidance on their most challenging projects and programs
ATLANTA (PRWEB) September 16, 2016
Al Clark joined HNTB Corporation as a transportation project director, based in the firm's Atlanta office. His initial responsibility will be to serve as project manager on mega highway projects.
Clark has more than 30 years of experience in program and construction management, design, airport operations and management, with specialties that include aviation, housing and transportation. In Atlanta, he served as deputy program manager for a $5.4 billion capital improvement program at Hartsfield-Jackson Atlanta International Airport. Additionally, Clark has worked in several leadership roles for Delta Air Lines in Atlanta, including regional director, airport and corporate affairs. He has also served as the chief operating deputy commissioner for the City of Chicago Airport System responsible for operations and capital development.
"Al has deep roots in Atlanta that provide him with a comprehensive understanding of the region's infrastructure needs," said Jeff Parker, HNTB Atlanta office leader and vice president. "With an expert like Al at their service, our Atlanta-area infrastructure clients will have an exceptional resource to offer guidance on their most challenging projects and programs."
Clark's experience includes the implementation of multi-million / billion dollar major capital programs in aviation and housing, senior management of a large airport hub system and the management leader for a major terminal project.
Prior to joining HNTB, Clark served as national transportation practice leader for another consulting firm.
Clark earned a degree in architecture from Olive-Harvey College with continued education at the University of Illinois.
About HNTB
HNTB Corporation is an employee-owned infrastructure solutions firm serving public and private owners and construction contractors. With more than a century of service in the United States and a presence since 1968 in Atlanta, HNTB continues to grow in size and service offerings to clients, currently employing more than 120 full-time professionals in the Atlanta area. The firm HNTB understands the life cycle of infrastructure and addresses clients' most complex technical, financial and operational challenges. Professionals nationwide deliver a full range of infrastructure-related services, including award-winning planning, design, program management and construction management. For more information, visit http://www.hntb.com.