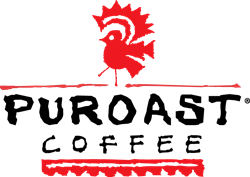 Woodland, CA (PRWEB) September 15, 2016
Puroast® Coffee, the brand that brought low acid and antioxidant-rich coffee into the market, has expanded its availability throughout the US and beyond, and has added its own coffee stores to the mix.
Puroast® has steadily increased its presence on grocery shelves, and now has bolstered distribution in the Northeast region, by adding the Shoprite® chain in the Tri-State area (New York, New Jersey, Conn.), and Shaw's in New England, to the growing list of well-known retailers carrying its products. Puroast® Coffee will partner with Shaw's in sponsoring the Tuft's University 10k Run for Women this Fall, where the full range of its coffees will be sampled including drip brew, one-cup brew and espresso capsule.
And this summer, Puroast® began selling its coffees abroad, by securing distribution via Amazon into the United Kingdom (available at http://www.amazon.co.uk). Many of the same products sold in the US are also now available in the UK, including Puroast's espresso capsule coffee.
The Puroast Coffeehouse
The secret to Puroast® Coffee's unique qualities of smooth, rich flavor and low acid, lies in the company's special roasting which the founders learned from growers in the coffee growing regions of Venezuela. Consumers have always wanted to know how Puroast® makes its low acid coffee – the answer to that question is now available at the Puroast Coffee coffeehouses. In the décor and setting of a coffee grower's plantation home, the customer experiences the full dimension of how coffee is roasted, brewed, and "served on the veranda". Traditional brew, espresso beverages and Puroast's signature Greca™ coffee are available, along with a light breakfast and lunch menu complimenting the coffee service. And of course all the coffees served are the same as those sold in stores – rich flavor, 70% less acid with 7 times the antioxidants of Green Tea.
The company's pilot store in the Brickell area of Miami, FL, and has opened to rave reviews. In eight months of operation it has surged to a #5 rating on Yelp, strong Google reviews (4.7 out of 5), and was named Best Coffeehouse Miami 2016 by the Miami New Times.
In addition to the retailers listed above, Puroast is also available in select Kroger, Publix, Whole Foods, Giant, Fry's, Earth Fare, Walmart, Market Basket, Hannaford and Stop & Shop stores, as well as online at http://www.puroast.com.