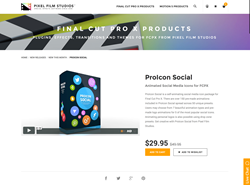 ProIcon Social offers 50 unique social icons as well as over 150 pre-made animations that allow FCPX users to get creative with their next video project
Aliso Viejo, California (PRWEB) September 20, 2016
"ProIcon Social offers 50 unique social icons as well as over 150 pre-made animations that allow FCPX users to get creative with their next video project," said Christina Austin - CEO of Pixel Film Studios.
Advertise a business's social networking in a fun way using animated logos with ProIcon Social. Users can show viewers where they can follow updates with extra flair by animating each logo into a shot. Mix and match animation styles, or use one type throughout. ProIcon Social lets users get creative in FCPX.
Take advantage of ProIcon Social's ready-to-go animation presets for icons with Youtube, Twitter, Instagram, Google Plus and Facebook logos. Each logo is pre-animated using one of the 7 included animation styles. Pixel Film Studios makes editing fast with pre-made animations.
Add any social media, or personal logo into one of the drop zone presets to use ProIcon Social's animation with any icon. Use a two color threshold to simplify the colors, or turn off the threshold to use the icon's original colors. The possibilities are endless in Final Cut Pro X with ProIcon Social.
Using drop zone presets is easy. To start, have a logo with a transparent background ready to apply. The logo can be a tiff or a png or any file format that supports transparent backgrounds. Then, navigate to the Drop Zone control in the Inspector window and click on the box. Select the image in the timeline and click the blue Apply button that appears. That's it.
Change the color, add a vignette, turn on the light and give the icon a drop shadow. These are a few of the many ways users can stylize their logos in Final Cut Pro X. Use the on-screen controls to position, scale and rotate icons within the scene and stretch icons in the timeline to increase duration.
Established in 2006, Aliso Viejo, California-based Pixel Film Studios is an innovative developer of visual effects tools for the post-production and broadcast community. Their products are integrated with popular non-linear editing and compositing products from Apple FCPX. Apple, the Apple logo, Mac OS X, and Macintosh are registered trademarks of Apple Inc. in the U.S. and/or other countries. All other trademarks and trade names are the property of their respective owners.