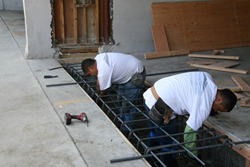 A lot of building owners remember what happened during the Northridge quake, and they don't want to risk that happening to them.
LOS ANGELES, Calif. (PRWEB) September 15, 2016
Earthquakes don't heed regulatory timelines. So, when the City of Los Angeles this year started rolling out the nation's most sweeping seismic regulations ever, many property owners took notice.
Sure, the law says soft-story building owners have seven years to get the work done, but Gregory Greene of Encino said he's getting all his properties retrofitted now – just in case the "big one" comes before the city deadline.
"I felt it was important to have the work done now so our tenants are protected," said Greene. "Not only that, but the retrofits protect my investment, too. Soft story structures have been proven to be unstable in earthquakes, and I want to guard against that for everyone's benefit."
The Los Angeles City Council last year voted to require earthquake retrofits of wood-framed, soft-story structures: the type of architecture commonly used in Southern California for apartment buildings, with parking situated on the ground floor and dwelling units built above it.
According to the city, more than half of the 13,500 soft-story buildings needing retrofits are in the Valley or the Westside. Optimum Seismic is currently performing several retrofits in both these communities, as well as in locations throughout the county.
"We're even getting requests for retrofits in the cities of Glendale, Santa Monica and West Hollywood, where the work isn't required by law," said Narek Ekmekjyan, vice president of Optimum Seismic. "A lot of building owners remember what happened during the Northridge quake, and they don't want to risk that happening to them."
According to the Apartment Association of Greater Los Angeles, many apartment owners throughout the city are opting to comply with the law early. AAGLA is hosting a series of well-attended workshops throughout the city along with representatives of Optimum Seismic and the City of Los Angeles to inform apartment owners about their obligations under the law, potential liabilities and what to expect from the retrofit process. For more information, contact AAGLA at 213-384-4131.
"The seismic retrofit ordinance was the result of two years of involvement by AAGLA to serve the interests of our member and their tenants. Now that the law is in effect, we are conducting outreach and educational efforts to apartment owners throughout the Los Angeles area." said AAGLA Executive Director Herbert Molano. "We find that many apartment owners are taking action, first by getting an overview of the scope of work, second by understanding the costs, and third by obtaining the financing. Many property owners with vulnerable structures now have the urgency to act so as to protect their investments and the safety of their tenants."
L.A.'s law applies to buildings that are at least two stories in height, built under building codes dating back to 1978 or earlier, and contain parking or other open space on the ground floor, with dwelling or office space above.
In severe earthquakes, such as the Loma Prieta and Northridge quakes of 1989 and 1994, these soft-story structures can collapse, crushing everything or everyone underneath them. Both these quakes combined resulted in more than 120 deaths and $35 billion in damage.
ABOUT OPTIMUM SEISMIC
Optimum Seismic is the L.A. area's leading retrofit company and AAGLA's Preferred Supplier for earthquake retrofit engineering and construction. The company has more than 30 years of experience and has completed more than 1,700 retrofits throughout the state of California. For information, visit http://www.optimumseismic.com.
ABOUT AAGLA
The Apartment Association of Greater Los Angeles (AAGLA) is Southern California's leading advocate for affordable quality rental housing. AAGLA's mission is to serve the interests of multifamily owners, managers, developers and suppliers with services and activities to maintain a high level of professionalism in the multifamily housing industry. AAGLA directly advocates for the rental housing industry locally in the city, county, state and federal government to better serve the rental housing needs of the public in a just and fair manner. Visit http://www.aagla.org.
# #