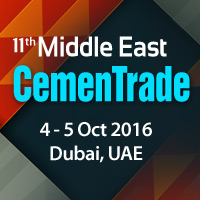 Themed "Identify New Opportunities & Sustain Market Share in Slow Economy", the summit examines global challenges arising from an oversupply of cement in the market, implications of low oil prices in MENA, and the future of sustainable concrete
Dubai. UAE (PRWEB) September 18, 2016
Even as falling oil prices have resulted in a sluggish construction sector, GCC's steady population growth continues to bring about regional cement demand upsurge and, along with it, new market opportunities for the industry. Likewise Africa's need to feed its infrastructure too has drawn existing and new cement to this new market.
On 4 – 5 October 2016, Dubai will host CMT's 11th Middle East CemenTrade delegates seeking insights into the GCC's economic outlook, trade, export and new investments in the African market.
Themed "Identify New Opportunities & Sustain Market Share in Slow Economy", the summit examines global challenges arising from an oversupply of cement in the market, implications of low oil prices in MENA, and the future of sustainable concrete.
The summit starts with Mr. Imran Akram, CEO of IA Cement giving an overview of the Global Cement Outlook for 2016 and 2017. Discussions proceed on to sessions on Africa markets with Mr. Timothy Wambu, Head of Research at NIC Securities outlining East Africa's Cement Outlook and Opportunities for Middle East Producers. Then Mr. Abut Ozsezikli, General Manager of Medcem Global (Eren Group) reveals Cement & Clinker Investment Opportunities in West Africa.
Other key addresses at the summit are:

Market outlook: UAE, Levant, Iran, Turkey, Pakistan, India
GCC's economic outlook and world energy status
Impact of low oil prices and political turmoil in MENA
Export and trade opportunities in the region with focus on North Africa
New investments in West Africa and impact on regional supply/demand
Potential of green concrete and its application in building Masdar City
Nano cement technology and cementitious products outlook
Fleet analysis and global trade developments in the freight market
Among other confirmed Panelists presenting at the summit include:

Mr. Thanos Tsetsonis, Director, Regional Sector Research, Emirates NBD
Mr. Simon Cox, Sr. Partner, Howe Robinson & Co. Ltd
Mr. Irfan Amanullah, General Manager(F&C), Attock Cement Pakistan Ltd
Mr. Shahin Dehnadi, Chairman of Board, Farasat Gostar Hoor
Mr. David Campbell, Global Director of Business Development, Moscow IMET International
For more details, visit 11th Middle East CemenTrade Summit website or contact Ms. Grace at +65 6346 9147