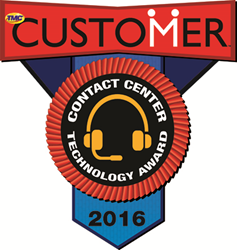 Our technology has made it easier for companies to serve customers more efficiently and effectively, greatly improving the customer experience. We are honoured to be recognised for our work by TMC
London (PRWEB UK) 15 September 2016
NewVoiceMedia, a leading global provider of cloud technology that helps businesses sell more, serve better and grow faster, announced today that TMC, a global, integrated media company, has named ContactWorld a 2016 Contact Center Technology Award winner, presented by CUSTOMER magazine.
ContactWorld, a multi-tenant intelligent communications platform, enables companies to have more successful conversations with their customers. The technology integrates seamlessly with Salesforce and taps into the data rich information companies need. It helps companies take the data they collect about customers and apply it to every conversation they have with them.
Furthermore, ContactWorld provides industry-leading contact centre solutions like omni-channel contact routing, self-service IVR, automated outbound dialling and screen pops. CRM updates are instantaneous and companies can operate globally on a network with proven 99.999% platform availability.
"ContactWorld is a true cloud platform that harnesses the power of your CRM for more successful conversations", said Jonathan Gale, CEO of NewVoiceMedia. "Our technology has made it easier for companies to serve customers more efficiently and effectively, greatly improving the customer experience. We are honoured to be recognised for our work by TMC".
"Congratulations to NewVoiceMedia for being awarded a 2016 CUSTOMER Contact Center Technology Award. ContactWorld has been selected for demonstrating innovation, quality and unique features which have had a positive impact on the customer experience", said Rich Tehrani, CEO, TMC. "We're pleased to recognise the company's achievement".
This 11th-annual Contact Center Technology Award, presented by CUSTOMER Magazine, honors vendors and technologies that have embraced technology as a key tool for customer service excellence. This award distinguishes their success as innovators, thought leaders, and market movers in the contact centre and customer care industries.
Results of the 2016 CUSTOMER Contact Center Technology Award have been published in CUSTOMER Magazine.
For more information about NewVoiceMedia's technology, visit http://www.newvoicemedia.com.
NewVoiceMedia powers customer connections that transform businesses globally. The leading vendor's award-winning cloud customer contact platform revolutionises the way organisations connect with their customers worldwide, enabling them to deliver a personalised and unique customer service experience and drive a more effective sales team. With a true cloud environment and proven 99.999% platform availability, NewVoiceMedia ensures complete flexibility, scalability and reliability.
Spanning 128 countries and six continents, NewVoiceMedia's 600+ customers include PhotoBox, MobileIron, Lumesse, JustGiving and Canadian Cancer Society. For more information, visit http://www.newvoicemedia.com or follow NewVoiceMedia on Twitter @NewVoiceMedia.