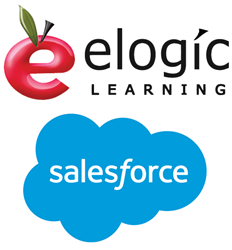 "It has always been our goal to not only be good at what we do, but to also be a technology leader in our space. It's great when you can combine two top technologies to benefit clients on both sides."
Tampa, Fla. (PRWEB) September 20, 2016
eLogic Learning is happy to announce its newest integration with the customer relationship management (CRM) software, Salesforce! Clients and Salesforce customers can now seamlessly integrate the two tools by configuring just a few settings within Salesforce.
The SalesForce Application package, when installed, connects organization, accounts and user data, and contacts between Salesforce and eSSential LMS. These configurations are as simple as identifying the LMS site URL, setting up the field mapping, as well as the account, contact and user settings. The package also has a Canvas tab that allows you to operate the full functionality of the LMS within SalesForce.
"It has always been our goal to not only be good at what we do, but to also be a technology leader in our space," says Bill Snowdon, CTO of eLogic Learning. "It's great when you can combine two top technologies to benefit clients on both sides."
This integration will be especially beneficial to all current and future LMS clients who utilize eSSential's e-commerce functionality. Clients will be able to not only sell training courses but manage opportunities, see sales forecasting, designate workflow automation, and foster inter-department collaboration.
"We strive to give our clients the tools that will help them succeed," said Mark Anderson, CEO of eLogic Learning. "Our LMS is one of those tools, but by integrating with other widely-used applications we continue to make our clients' learning and training process efficient and profitable."
Salesforce is one of many applications clients can use alongside eSSential. Others include WebEx, Workday, Oracle, SAP, Peoplesoft, other HRIS and POS systems, and more.
To learn more about the eSSential LMS, visit our website at http://elogiclearning.com.
________________________________________
About eLogic Learning
A leader in the eLearning industry, eLogic Learning offers organizations world class, comprehensive LMS technology and content solutions that save costs and increase productivity. The eLogic eSSential LMS supports over five million monthly users and was named a #1 Corporate LMS by Talented Learning, Top 3 LMS by E-Learning 24/7 and Top 20 by Capterra. The eSSential LMS makes it easy to manage eLearning, instructor-led and virtual training events, keep up with regulatory compliance requirements, analyze training usage and results, sell courses online with robust ecommerce features, and much more.
In addition to its Learning Management System, eLogic develops custom eLearning content and provides an extensive third-party courseware library. With a comprehensive turnkey approach to implementing learning strategies, eLogic offers professional services and proven expertise in content strategy, business process change and the development of corporate training programs.