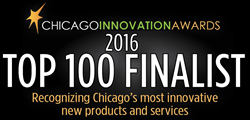 This project is a true game-changer – one that has made a difference in our client's customer base. We are grateful to all of our clients for allowing us the opportunity to help their businesses grow.
(PRWEB) September 16, 2016
Software solutions provider alligatortek today announced it is among the prestigious list of forward-thinking organizations named by the Chicago Innovation Awards as a 2016 Top 100 Finalist for their application, the Menu Profit Builder. This is the second time alligatortek, a business services firm, has received recognition by this awards program for an industry innovation.
Menu Profit Builder is a revolutionary application that has already produced quantifiable results. Customer attrition has reduced from 26% each year to 13% for alligatortek's client, a wholesale food distributor. The company developed an application for the distributor to help its customers, restaurant managers, control and predict food costs. Restaurant managers now have the option to view information at the detail and/or summary level which allows them to see exactly how much recipe and menu items cost. The system also provides information about which menu items generate the best profit margins and which menu items are out performing others. Managers can then run reports using different selection criteria so they can easily extract the data they need.
"It is a great validation to our company and our team members to be recognized for the work that we do," said Sid Bala, alligatortek President and CEO. "This project is a true game-changer – one that has made a difference in our client's customer base. We are grateful to all of our clients for allowing us the opportunity to help their businesses grow."
This year's winners were selected from a record-breaking 643 nominations, which were narrowed down by 13 judges down to 100 finalists. 25 winners will be revealed at the Chicago Innovation Awards Ceremony, to be held on October 25.
"This program serves to honor forward-thinking companies in Chicago, a growing hub of innovation," said Luke Tanen, Executive Director of Chicago Innovation Awards. "We are proud to recognize this year's winners for pioneering ideas that will put our city on the map as a place for visionary thinking."
About the Chicago Innovation Awards
The Chicago Innovation Awards, established in 2002, have grown from a single awards ceremony to a year-long series of events and activities designed to celebrate innovation in the Chicago region, educate people and organizations about the principles of innovation, and connect the corners of the economy by building relationships that strengthen companies, grow the economy and create jobs. The organization's expansion has included formation of the Chicago Innovation Foundation, which promotes innovation education and provides scholarships to college students each year, as well as The Innovators Connection, which connects large companies with Chicago-based start-ups. For more information, visit http://www.chicagoinnovationawards.com.
About alligatortek
alligatortek began partnering with clients more than 20 years ago to provide custom software applications. Its extensive portfolio includes the design and construction of software solutions for the Web, mobile devices and desktops to meet the needs of its nationwide clients and their employees, partners and customers. With a strong focus on identifying bottlenecks in business processes, the company brings deep industry knowledge and expertise to every project, enabling its team members to quickly identify and design solutions for unique business challenges.
A Microsoft Gold Managed Partner, alligatortek was the winner of the 2015 Microsoft Partner of the Year Award in the category of Innovative Technology for Good Citizenship. alligatortek has received elite recognition for three consecutive years by the Best and Brightest Companies to Work For®. The firm also received the People's Choice Award at the 2014 Chicago Innovation Awards, and was listed as One of the Top 50 Employers for Gen Y Emerging Talent in 2013. For more information, please visit http://www.alligatortek.com.