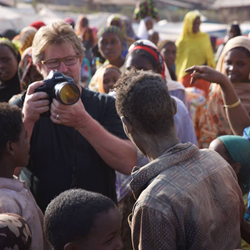 Cape Town, South Africa (PRWEB) September 17, 2016
Michael Lorentz, the Passage to Africa CEO, Royal African Safaris Partner, and Safarious co-founder has been recognized for the third consecutive year by Travel + Leisure for his on the ground contacts and access to the little known areas of Africa on the magazine's prestigious annual A-List of travel experts, released this month.
Travel + Leisure singled Lorentz out for his "off-the-grid" itineraries. From Ethiopia with a new lesser traveled route that takes in a swathe of backcountry beyond the habitual route to Lalibela, to the private mobile camps of Tanzania that are sometimes built and moved in a day in synchronicity with the annual Serengeti migration, Lorentz designs and leads extraordinary safaris that can include "rarely seen tribal ceremonies" according to T+L. His guests are given access to front line conservationists and leading field researchers, pioneering a new trend in experimental philanthropic travel.
Michael Lorentz, who was greatly honored by the Travel + Leisure recognition, said, "Today's traveler is seeking more and more to connect with the wild world, to experience travel in a way that is transformational. The last 12 months have taken me from Chad to Madagascar, and even the Royal Geographical Society in Hong Kong in pursuit of finding and promoting an authentic Africa for the traveler."
# # #
ABOUT PASSAGE TO AFRICA
Passage to Africa is a premier safari company featuring Africa's most respected safari specialists. The company was founded in 2000, by the Travel + Leisure A-List travel expert Michael Lorentz. Passage to Africa safari guides have a wealth of knowledge that can only come from being Africa-born and having a wide experience of travel throughout Africa. Journeys are custom-planned for each guest. Passage guides have access to secret places, exclusive experiences, and the legends of Africa.
For more information, contact Passage to Africa at +1 855 451 1689 or +27 15 793 0811; or visit the website at http://www.passagetoafrica.com
Social Media Savvy? Follow on Facebook, Twitter, and Instagram!