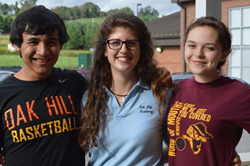 "Where can I find a school that will enable my child to realize his/her untapped potential? You need a turning point for your child. You have found Oak Hill Academy." - Michael D. Groves, Ph.D President
Mouth of Wilson, VA (PRWEB) September 19, 2016
For the 2016-17 school year, Oak Hill Academy is proud to announce its rolling admission policy – the ability to consider late applicants during the course of the school year for current enrollment. This policy further distinguishes the Academy in the boarding school market as the turning point for struggling students with college aspirations.
Beginning its 138th year, Oak Hill Academy has been providing a boarding school environment for students needing a turning point. With college acceptance rates for its graduating seniors approaching 95%, the mission of the Mouth of Wilson, Virginia School is in working with students who are not currently experiencing success but are seeking growth – academically, socially, spiritually, and in maturity.
As many families are realizing the need for a change in school environment for their student at the start of a new school year, there are limited options for late enrollment. Oak Hill Academy's rolling admission policy is a distinguishing factor in the boarding school market along with small, relational classroom settings that ease the transition process for new students.
Also new this year, the Academy unveiled its Character Development Program based on the long-held 4 core values of Community, Responsibility, Moral Courage and Transformation. Grade levels will be centering service activities on each of these values throughout the year.
Using this recently announced year- long theme of "Purpose," students will be supplementing The Academy's college prep academic curriculum with a host of activities designed to establish students' sense of purpose to community and self.
Since 1878, Oak Hill Academy has flourished in the very unique niche of serving bright, but unmotivated students, grades 8-12, in changing their trajectory. For more information about The Academy, please visit http://www.oak-hill.net