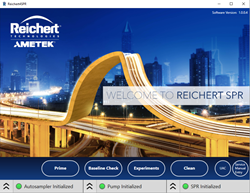 BUFFALO, NY (PRWEB) September 21, 2016
Reichert Technologies announces the launch of the all new software for the Reichert4SPR. Redesigned with the scientist in mind, the new software is intuitive, easy to use and powerful.
Reichert sets the standard for easy-to-use SPR
Listening to feedback from scientists who were frustrated with other SPR systems that made them feel like a computer programmer, Reichert's new software is designed around the scientist and their needs. This new instrument control software guides the user through the natural workflow of an experiment – from immobilization to method development and through scale up of large screening runs. No training is required and the concept of "programming" a run does not exist – allowing the focus to be on the science, while the software runs the instrument. The new software significantly reduces experiment set-up time and manual entry for the scientist. The enhanced Reichert4SPR is intuitive and only asks the scientist about relevant experimental details.
An important benefit of the new software is the organization of projects and experiments. The system does it for the user. Want to build on a previous experiment? Call it up, modify only the parameters they want to change and begin.
The software is perfect for core facilities and pharma/biotech companies. With a welcoming, clean look and feel, the software is not intimidating and easily walks you through the set up and execution of your experiment.
Consistent with Reichert's philosophy, the software is ready to support GxP environments and is 21 CFR Part 11 compliant. No additional software or modules are required. Existing Reichert4SPR systems are compatible with the new software and the upgrade is available.
With the new software, Reichert takes ease of use to an entirely new level, while maintaining the extremely high sensitivity and flexibility scientists require for the most demanding and creative experiments.
###
About Reichert's Full Line of SPR Systems
Reichert's SPR systems provide the diverse interests of academia and industry with the most cost-effective, sensitive and flexible platforms in today's marketplace. These systems supply a comprehensive characterization of molecular interactions that are important to researchers in numerous scientific disciplines, including drug discovery. These interactions include but are not limited to protein–protein, protein–peptide, protein–nucleic acid and protein–small molecule.
Reichert systems generate information-rich data to determine such key parameters as binding association and dissociation rate constants (kinetics), equilibrium (affinity) constants, thermodynamics and concentration. The systems give invaluable insight into the dynamics of protein-binding assays that govern chemical and biological processes. The new four-channel Reichert4SPR system's leading technology delivers lower baseline drift and improved sensitivity.
About Reichert Life Sciences
Reichert Life Sciences' entry into the design and manufacturing of Surface Plasmon Resonance (SPR) instrumentation began in 1997 with efforts to incorporate bio-sensing technology into Reichert's core critical angle refractometer products. This technology built upon a key Reichert patent (US Patent #4,640,616) describing a digital reflected light refractometer incorporating a charge-coupled device to sense reflected light intensity over a range of angles covering a refractive index range from 1.33 to 1.52. Since then, Reichert has utilized its applications knowledge to develop a full line of SPR systems that push the limits of detection and sensitivity in label-free interaction analysis with technology that drives research from discovery to development to production. Since Reichert's first SPR device was sold in 2000, the company's equipment has been used in hundreds of published studies.
About AMETEK, Inc.
Reichert Technologies is a unit of AMETEK Ultra Precision Technologies a division of AMETEK, Inc., s a global leader in electronic instruments and electromechanical devices.