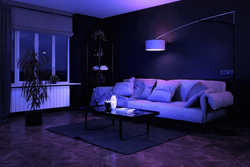 ilumi MeshTek can be easily integrated into almost any device – from TVs to home audio systems – to seamlessly create a home network of integrated devices without any additional hardware or wiring.
DALLAS (PRWEB) September 15, 2016
ilumi solutions, one of the fastest growing Internet of Things (IoT) networking companies, and Optoma Technology, a leading innovative display solution provider, today at CEDIA 2016 is demonstrating the world's first projector and lighting integration, allowing control of a home's lighting environment by syncing to a home theater projector's commands with just an iOS app. The technology enables a way to simplify and improve consumer functionality and usability of devices by showcasing true IoT integration in home theater.
Using an Optoma 1080p short throw laser projector which will be available in Q1 2017, the projector incorporates ilumi's Bluetooth® patented MeshTek technology, which syncs with plug-and-play ilumi smart lightbulbs. Linked to projector control commands, the lighting will adapt to the projector status, including dimming when turned on, brightening when turned off, dynamically adjusting to the image brightness and colors, and flashing red/green when muted/unmuted. Consumers simply download an iOS app for control of their projector and turn on lighting functionality, which eliminates the need for hard wired lighting control.
"This home theater demonstration is just the beginning of the IoT networking possibilities that our MeshTek technology can enable," said Corey Egan, co-founder and CEO of ilumi solutions. "ilumi MeshTek can be easily integrated into almost any device – from TVs to home audio systems – to seamlessly create a home network of integrated devices without any additional hardware or wiring."
Most traditional AV lighting solutions today require expensive controllers and programming, but with the integration of ilumi MeshTek technology, consumers can easily control room lighting without extra hardware or programming. Beyond lighting, the high-powered ilumi MeshTek technology enables up to 50 different devices to be simultaneously controlled by an app from within a Bluetooth range of up to 400 feet, allowing integration of multiple related products in the home – from projectors, TVs and cameras to sound systems and home security systems.
There are more than 50 thousand unique ilumi MeshTek networks operating around the world today, making ilumi the leader in Bluetooth mesh networking technology. MeshTek is currently used in multiple lighting devices and is being evaluated for applications such as TVs, fan control, sensors, and other IoT applications. With its simultaneous broadcast and connection-based mesh compatibility, product manufacturers can easily integrate ilumi MeshTek-enabled devices into any smart home.
CEDIA attendees can see the technology in action at ilumi booth #6405.
About Optoma Technology
Optoma Technology is a world leading designer and manufacturer of award-winning video and audio products for home entertainment and theater, ProAV and business. With a focus on premium quality and functional style, products are designed with the end-user experience in mind. Optoma and NuForce products deliver stunning crystal clear images and exceptional sound with ultimate reliability. Optoma Technology is part of The Optoma Group, which has continental headquarters in the U.S., Europe, and Asia. For more information, please visit: http://www.optomausa.com.
About ilumi solutions
With the smartest and most robust Bluetooth mesh network technology on the market, ilumi solutions provides an elegant, affordable solution for manufacturers looking to quickly and reliably bring connected IoT products to market. The company also provides smart lighting solutions under its consumer-facing ilumi brand, available for purchase at Best Buy. Founded in 2011, the company holds six patents related to smart lighting, advances wireless networks and other related technologies. Featured on Shark Tank, where it secured the backing of Mark Cuban, the company was named one of Entrepreneur Magazine's 100 Brilliant Companies, and its ilumi smart bulb was named Best Bluetooth Product of 2016 by Bluetooth SIG. For more information, please visit ilumi solutions and ilumi.co.