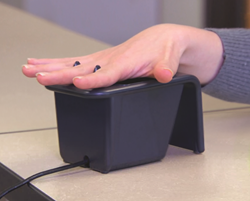 PatientSecure® gives our facilities an advanced tool to digitally link each patient to their unique personal health record
Tampa, FL (PRWEB) September 15, 2016
Florida Hospital is implementing a biometric identification system called PatientSecure® into local hospitals to reduce paperwork, improve accuracy and prevent identity theft. This new technology uses a near-infrared light to scan a patient's palm and register and identify patients at Florida Hospital locations across the state including: Florida Hospital Carrollwood, Florida Hospital Zephyrhills, Florida Hospital Tampa, Florida Hospital at Connerton Long Term Acute Care, Florida Hospital North Pinellas, Florida Hospital Heartland Medical Center, Florida Hospital Heartland Medical Center Lake Placid and Florida Hospital Wauchula. The device functions by reading the veins in the hand, which are unique to every individual, and essentially creates a digital signature.
"One of the first and most important steps in the care delivery process is accurate patient identification. PatientSecure® gives our facilities an advanced tool to digitally link each patient to their unique personal health record," said Brent Snyder, Chief Information Officer for Adventist Health System.
This advanced technology is used upon the patient's arrival and seamlessly links the guest's personal biometric trait to their electronic medical record. This progressive system strengthens the registration process by automatically pulling up the patient's health record, and in turn, creates a more efficient environment to better serve Florida Hospitals' patients. Additionally, once enrolled in PatientSecure® a patient's record can be accessed instantly by any Florida Hospital and their affiliates.
PatientSecure® provides a safe, secure, confidential, and easy way for Florida Hospital patients to register for care. In some instances, PatientSecure® can be a lifesaving tool if a patient arrives at the hospital without identification and is unconscious or unable to communicate. A quick scan of their hand would automatically pull up the patient's medical record, alerting medical professionals to critical information such as past medical history, allergies and current medications.
"This new measure is evidence of our commitment to continually innovate and improve services for our patients and our community," said Mike Schultz, President & CEO of the Florida Hospital West Florida Region. "The palm scan creates a unique digital signature which is especially beneficial to patients during return visits, as a simple scan of the palm will securely access their registration and insurance information, and accurately link them to their medical record, a crucial step in reducing potential patient safety risks."
PatientSecure® also creates a higher level of security, confidentiality and protection for medical identity theft by ensuring that each patient is correctly linked to their unique medical record. As always, Florida Hospital recognizes the importance of patient confidentiality and sees this system as an asset in better protecting patient's personal health information. Also, PatientSecure®limits the amount of personal information that needs to be said aloud or recorded on paper during visits, which promotes patient's privacy.
About Adventist Health System
Adventist Health System is a faith-based health care organization headquartered in Altamonte Springs, Florida. A national leader in quality, safety and patient satisfaction, Adventist Health System's more than 78,000 employees maintain a tradition of whole-person health by caring for the physical, emotional and spiritual needs of every patient. With 46 hospital campuses and more than 8,300 licensed beds in ten states, Adventist Health System facilities incorporate the latest technological advancements and clinical research to serve more than 4.7 million patients annually. The full continuum of integrated care also includes urgent care centers, home health and hospice agencies, and skilled nursing facilities. Each Adventist Health System facility operates independently in delivering care and services to best meet the needs of the local communities they serve. While each entity is unique, all remain united in one mission of Extending the Healing Ministry of Christ.
About Florida Hospital West Florida Region
The Florida Hospital West Florida Region is a not‐for‐profit 1,275‐bed hospital system composed of Florida Hospital Tampa/Pepin Heart Institute, Florida Hospital Carrollwood, Florida Hospital at Connerton Long Term Acute Care, Florida Hospital North Pinellas, Florida Hospital Wesley Chapel, Florida Hospital Zephyrhills, Florida Hospital Heartland Medical Center Sebring, Florida Hospital Heartland Medical Center Lake Placid and Florida Hospital Wauchula. Part of the Adventist Health System, Florida Hospital is a leading health network comprised of 26 hospitals throughout the state. For more information, visit FloridaHospital.com.
About Forward Advantage, Inc.
Forward Advantage is a global supplier of healthcare solutions that integrate seamlessly with your HCIS. Whether you're looking to improve your clinical workflow, maximize your resources, improve patient care, or meet patient safety initiatives and HIPAA requirements, our team of integration experts has the collective experience and knowledge to provide you with the right solution for your needs and deliver it with the continued acclaimed support Forward Advantage has become known for – so you can focus on providing exceptional care to your community. For more information, visit http://www.forwardadvantage.com/solutions/identity-access-management/identity-management-secure-communications/patientsecure/