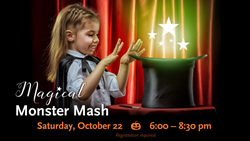 The Magical Monster Mash will be a spellbinding night jam-packed with not-so-scary, costumed family fun.
Norwalk, CT (PRWEB) September 15, 2016
It will be a night of tricks and treats as Stepping Stones Museum for Children welcomes all into its halls of wonder for the BOO-seum's annual Halloween party. Celebrate this mystifying holiday the Stepping Stones' way from 6:00 to 8:30 pm on Saturday, October 22 at the museum's Magical Monster Mash. Guests are sure to have a monstrously good time during the museum's kid-friendly costume party.
The Magical Monster Mash will be a spellbinding night jam-packed with not-so-scary, costumed family fun. Guests can scamper through the museum to find magical artifacts during a scavenger hunt, take magic photos with an invisibility cloak, experiment with potions, make their own wizard wand or leave behind magic messages for their family and friends.
Weather permitting, attendees will be able to meander through an outdoor Halloween maze or view magical Halloween scenes during an outdoor ride on a magic train. Back inside, they will also be able to make paper flying bats to fly in the museum's wind tunnel or learn a few simple magic tricks to amaze friends. Speaking of magic tricks, don't miss Pete and Chris Amusement's two-man, kids' comedy magic show, which is almost guaranteed to capture any child's attention and not let go. And of course, guests will be able to masquerade through the museum in costumes at the end of the BOO-tiful evening during the SPOOK-tacular Witches and Wizards Walk.
Don't fret about bringing the littlest visitors. At this Halloween party, no one will be left crying for their "mummy." There will be age-appropriate activities for all visitors, so that the whole family can enjoy this costume party. Dinner will be available in the Stepping Stones Cafe. In addition to its regular menu items, the Cafe will be selling two festive dinner packages. Attendees will be able to purchase the "Mummy Dog" or "Spider Pizza" dinner packages for this year's Monster Mash. These special dinner packages can be pre-purchased at the time of registration or bought in the Cafe during the event.
Tickets for this event cost $12 per person for museum members and $17 per person for non-members. Children under the age of 1 will be admitted for free. However, attendees can take advantage of the Early Bird Discount and receive $2 off each ticket before Sunday, Oct. 16. Magical Monster Mash tickets are non-refundable and non-transferable. Registration is required since space is limited and this event is very popular. Register early by calling 203-899-0606, ext. 247, or visiting http://www.steppingstonesmuseum.org/monstermash.
About Stepping Stones Museum for Children:
Stepping Stones Museum for Children in Norwalk, Conn., is an award-winning, private, non-profit 501(c) (3) children's museum committed to broadening and enriching the lives of children and families. Located on 5 acres in Mathews Park, the LEED Gold certified museum encompasses five hands-on galleries, a state-of-the-art multimedia gallery, a family and teacher resource center, a cafe and a retail store.
Stepping Stones is located at 303 West Ave., exit 14N or 15S off I-95 in Norwalk. Museum hours are Labor Day through Memorial Day, Tuesday- Sunday and holiday Mondays from 10 a.m.-5 p.m.; and Memorial Day through Labor Day, Monday-Sunday from 10 a.m.-5 p.m. Admission is $15 for adults and children and $10 for seniors. Children under 1 are free. To learn more, call 203-899-0606 or visit http://www.steppingstonesmuseum.org.