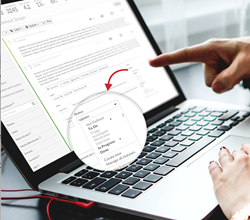 As more and more enterprises compete solely on the basis of CX, quickly understanding and acting upon customer feedback is a clear market differentiator
Chicago, IL (PRWEB) September 16, 2016
OpinionLab today announced its Summer 2016 Release to enhance the collaborative power within an enterprise to understand and act on customer feedback. Summer Release extends OpinionLab's clear market leadership in leveraging the context surrounding "in the moment" customer feedback to improve Customer Experience (CX) and drive measurable business results.
"As more and more enterprises compete solely on the basis of CX, quickly understanding and acting upon customer feedback is a clear market differentiator," said Mark Treschl, President and CTO of OpinionLab. "Our clients asked us for quick-to-implement innovation to help them more efficiently and effectively leverage internal resources to respond to customer feedback and Summer Release delivers that innovation."
Building on OpinionLab's ability to deliver higher value from Voice of Customer feedback by empowering enterprises to collaborate and act in real-time, Summer Release introduces unique new capabilities to improve internal visibility, understanding and action.
Summer Release complements the powerful collaboration functionality of OpinionLab's Collaborative Labels and Collaborative Notes by providing diverse stakeholders from across an enterprise the ability to fluidly assign, update and track the resolution status of an individual piece of customer feedback.
Business benefits include:

Improved Visibility & Understanding: a large enterprise may be challenged to ensure timely action on customer feedback that requires insight and action from diverse business functions, departments and geographies. OpinionLab now provides a simple and efficient way for diverse stakeholders to assign, update and track status on a specific piece of customer feedback to enable institutional visibility and understanding along the path to resolution.
Increased Accountability: competing on CX requires companies to instill a culture of ownership and customer-centricity across their enterprise. By making customer feedback more visible throughout an enterprise with status, ownership and associated trends, OpinionLab now provides an elegant solution to ensure expeditious recognition, analysis, action and (most importantly) closed loop resolution with the customer.
Also included in OpinionLab's Summer Release are improvements to OpinionLab's industry leading integrations with Session Replay providers, including Clicktale. OpinionLab amplifies the value of Session Replay by leveraging real-time VoC to identify high-value sessions to size issues and drive significant return on investment.
"Clients choose OpinionLab because the rich context we attach to customer feedback makes it immediately actionable in a way that drives positive business outcomes," Treschl continued. "The innovation in our latest release represents new layers of context that make our solution even more central to improving an enterprise's overall CX and the business benefits that represents."
OpinionLab's Summer 2016 Release is now available. For more information, please visit opinionlab.com.
About OpinionLab
OpinionLab is a high-growth SaaS provider of continuous Voice of Customer listening solutions that drive smarter, real-time business action. The world's largest brands, including many industry leaders in Financial Services, Retail, Insurance, Healthcare, Travel and Hospitality use OpinionLab to optimize customer experience and drive engagement across channels. OpinionLab continuously introduces new innovation to serve marketing and customer experience leaders, and is accelerating all aspects of its business to best serve the needs of its global customer base.