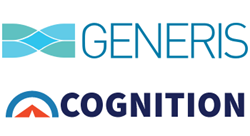 We look forward to meeting delegates to show them how they can leverage the Cockpit Platform in their development approach.
Lexington, Massachusetts (PRWEB) September 19, 2016
Cognition Corporation (http://www.cognition.us), a software company specializing in medical device compliance and commercialization, located in Lexington, Massachusetts, will be a Premier Industry Partner at the upcoming Generis American Medical Device Summit in Chicago, Illinois.
The event, produced by the Generis Group (http://www.generisgp.com), will be held October 5-6, 2016 at the Westin Lombard Yorktown Center outside of Chicago. This is Cognition's second year sponsoring the event. This year, however, will be the first year Cognition will be chairing the event. Dale Gallaher, President, will be the chairperson guiding the event over the two days. Mr. Gallaher will introduce a number of plenary speakers including those from Janssen, Terumo BTC, GE Healthcare, Medtronic, and FDA. Along with stand-alone talks, the event also provides three tracks for delegates to attend: design, quality, and technology.
Mitch Hayes, CTO, will be presenting in the design track, speaking about Cognition's guided approach to compliance. In today's changing regulatory environment, rapid compliance is more important than ever. Efficiently demonstrating system safety and efficacy is a top challenge facing medical product development teams. Mr. Hayes will show how the Cockpit Platform guides teams through their product development and regulatory processes, making the creation of submission deliverables a fluid part of daily tasks.
"This is our second year sponsoring the Generis American Device Summit. We are excited to be working with the Generis team to bring Cognition's message to life," said Mr. Hayes. "We look forward to meeting with the show delegates to show them how they can leverage the Cockpit Platform and our guided approach to progress their device development."
The Cognition booth will be located directly across from the delegates lounge in booth numbers 46 and 47. Visit the booth to learn more about the Cockpit Platform and Cognition's service offerings. For more information on the event, including registration information, visit the AMDS 2016 website (http://www.amdsummit.com).
About Cognition Corporation
Cognition Corporation, headquartered in Lexington, Massachusetts, has been offering solutions for medical device compliance and commercialization for more than ten years. Cognition's Cockpit Platform provides the framework for the extensive set of compliance templates they offer. These templates along with professional services give companies a jump-start to reduce time to market.
###