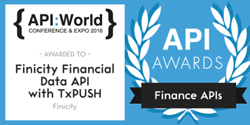 MURRAY, Utah (PRWEB) September 15, 2016
Finicity, a leading financial data aggregator, announced today that its Financial Data API with TxPUSH was named winner of the Finance API of the Year by API World. Finicity accepted the honor this week at the API World 2016 conference in San Jose, California.
Finicity makes it their mission to democratize financial event data, improve financial data access security and unlock financial app innovation. The Financial Data API with TxPUSH aligns shared interests of consumers, developers and the banking industry to improve data security, propose a standardized API and enable real-time delivery of financial transaction data to account holders in the apps they choose.
"This recognition of our Financial Data API as the best in its class shows the ground we've covered in a short time and the benefits we can bring to the financial data ecosystem going forward," said Nick Thomas, president and co-founder of Finicity. "We're committed to furthering this mission and the implementation of the open financial web, which is backed by innovative APIs like TxPUSH."
API World is the world's largest vendor-neutral API conference and expo. The conference was held September 12-14 at the San Jose Convention Center. It featured 300 speakers, 75 exhibitors and 4,000 attendees who came together to discuss and learn about the integration of data, APIs, infrastructure and IT products. The event encourages networking of connections, knowledge, trust and business within the developer community of API providers and consumers.
To stay up to date with news and announcements from Finicity, visit the online newsroom.
About Finicity:
Finicity is a leading financial data aggregator, enabling innovation in the FinTech industry through its modern RESTful API and Finicity Platform. With over 16,000 developed financial institution integrations, Finicity allows consumers to access their data via partners financial apps in areas like financial management, online lending, investing, payments and more. Finicity has a three-fold mission to democratize financial data, improve financial data access security and unlock financial application innovation. To learn more and test-run the rock-solid API today, visit http://www.finicity.com.
# # #