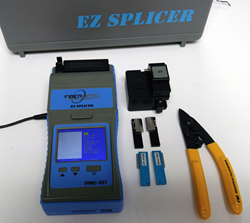 We found the EasySplicer lived up to its name - it made splicing easy. Stated Jim Hayes, President of The Fiber Optic Association of America
Nashua, NH (PRWEB) September 28, 2016
FiberOptic Resale's FORC-EZ7 fusion splicer is the first of its kind hand-held portable v-groove, clad-alignment splicer. Jim Hayes, President of The Fiber Optic Association of America stated: "We found the EasySplicer lived up to its name - it made splicing easy." Tim Collins, FOA Board of Directors, stated the FORC-EZ7 was a hit at the NTI-National Training Institute training conference held in Ann Arbor Michigan. At the conference IBEW trainers incorporated the FORC EZ7 into their training classes to include basic premise and fiber optic data communication wiring.
The EasySplicer weighs in at only 4.3 pounds and has a splice time of 7 seconds. Many splicers on the market are difficult to use and require a lot of education before they can be operated. Even very competent splicers may require extensive training, not the FORC-EZ7. With a three button operation; it only requires about an hour to learn how to splice making, it one of the easiest splicers to operate in the world. In addition to its easy to use features the FORC-EZ7 has the industry's only SD port for virtually unlimited data storage.
The FORC-EZ7 splices SM and MM fibers and has the same splicing method as a ribbon splicer which allows the splicer to keep its size small and cost low. Although the FORC-EZ7 is one of the most inexpensive splicers on the market it performs 4-5 times better than more expensive splicers. This splicer is constantly calibrating itself for environmental changes, like moisture. Calibration can also be done manually and is easily done within seconds.
For complete information on the FORC-EZ7 please visit EasySplicer-USA.Com. The FORC-EZ7 is serviced by FiberOptic Resale Corp.
FiberOptic Resale Corporation (FORC)—manufactures, distributes and services fiber optic test equipment. Authorized USA Channel partners include INNO Instrument, Fitel/OFS, EXFO, Yokogawa America, and (ODM) Optical Design Manufacturing test equipment. Fiber optic consumables and tools include products from Polywater and Jonard, as well as electrodes, cleaver blades, splice protection sleeves and more, all offered on our web site and available for purchase online.
FORC offers refurbished fiber optic equipment that's USA channel sourced only and offers the highest quality refurbished equipment to meet any budget. All equipment comes fully tested and calibrated to comply with industry standards and includes a standard warranty. FORC sales staff and engineers are constantly product trained and will assist you choose the instrument that's right for any job.
FORC has an in-house lab that offers professional cleaning calibration/verification and repair services of fiber optic fusion splicers and OTDRs. There are three service locations across the USA. For more information on any of the products offered by FiberOptic Resale Corp please email sales(at)fiberopticresale(dot)com or call 877-287-7535.